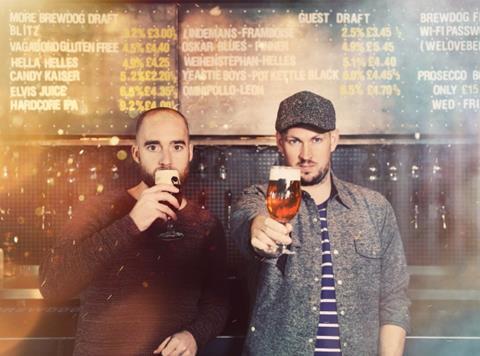 BrewDog is to embark on a fifth round of 'Equity for Punks' crowdfunding aimed at raising up to £50m to fuel the group's rapid overseas expansion and develop a new beer facility.
The brewer has released 421,052 new 'B' shares and set an initial target of £10m, which would make BrewDog "the biggest crowdfunded business of all time", it claimed.
The investment bid, which will run for three months until 15 January, has a "stretch goal" of £50m. The intitial £10m will go towards building a new brewhouse at its Aberdeenshire base, with an eye to "helping fulfil volume demand across the UK and Europe", while further cash raised would fund the construction of new breweries in Australia and Asia, the opening of 15 bars in the UK, increasing the capacity its Aberdeenshire brewery, and the creation of a dedicated craft beer TV network, it said.
Money will also be spent on the development of BrewDog's sour beer facility, called The Overworks, which is due to launch later this year.
Investors "haven't just supported the growth of an organisation now valued at over £1bn," said BrewDog founder James Watt. "They have inspired the creation of a model that will give away 20% of its profits to its team and charitable causes via our pioneering 'Unicorn Fund'."
Under the brand's equity scheme, shares bought can be sold once a year on its in-house trading platform. Shareholders receive various discounts for buying in, redeemable online or in the brewer's bars, as well as early access to limited release beers and an invite to its agm.
However, BrewDog founders and staff also own more than half of shares in the company, meaning Equity for Punks shareholders have little say over decisions at general meetings if they disagree.
Shares cost £23.75 each, with a minimum investment of two for £47.50. They are classified as A, B or C, with C shares holding a liquidation preference over A and B shares, which means potential B shareholders could see their capital return reduced to nil.
It comes as sales of BrewDog's flagship Punk IPA have surged over the past 12 months, boosted by a slew of listings in the mults. It added £12m to its value, an increase of 98.2% [IRI 52 w/e 22 July 2017].