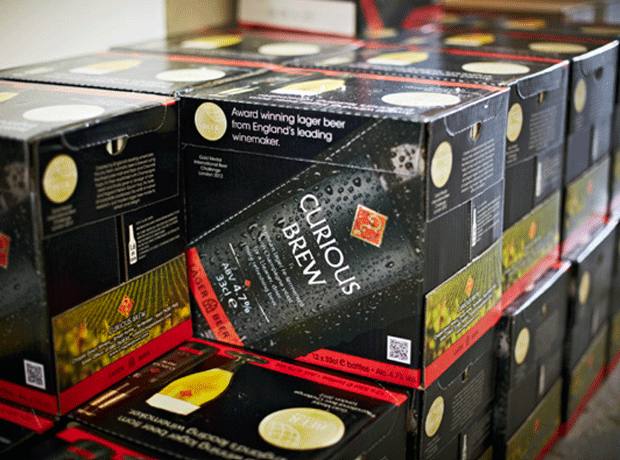 Winemaker Chapel Down has raised more than £1.7m from a crowdfunding campaign and placing for its beer and cider business to meet growing demand in the UK and overseas and to build a brewery.
The group has closed its equity crowdfunding Seedrs campaign, launched in October, with 895 investors taking a 9.7% stake for £1.2m and individual investments ranging from £100 to £35,000. A share placing raised the additional £550,000, including £275,000 from directors of Curious Drinks and Chapel Down.
The new funds will be used to build a brewery and visitor attraction in Chapel Down's home county of Kent, with construction expected to begin in the summer.
Proceeds will also be used to strengthen the Curious Drinks team, enhance domestic and international routes to market and further develop the brand, a statement by Chapel Down said.
Curious Drinks and Chapel Down CEO Frazer Thompson added: "The success of our Curious Drinks crowdfunding campaign is further testament to the revolution taking place in the British beer business. Customers want great beer and we're delighted that they love Curious as much as we do.
"We are pleased to welcome nearly 900 new shareholders who we know will become fantastic brand ambassadors.
"Since launching Curious Drinks, we have been thrilled by its rapid success. But to have earned the support of 895 shareholders who believe in the brand and who want to support us on our journey with their hard earned cash is truly humbling."
The money raised exceeded the original £1m target by 71%, with the placing to remain open for investments of more than £25,000 until 29 April 2016.
The new shareholders receive a range of rewards for their investment, including free tours, a 25% discount on Curious Drinks beers and cider, limited edition beers and their names etched on brewery fermentation tanks.
Chapel Down hits its original £1m target less than a month after launching the campaign back in October, subsequently extending the pitch on Seedrs with the hope of bringing in up to £3.65m.