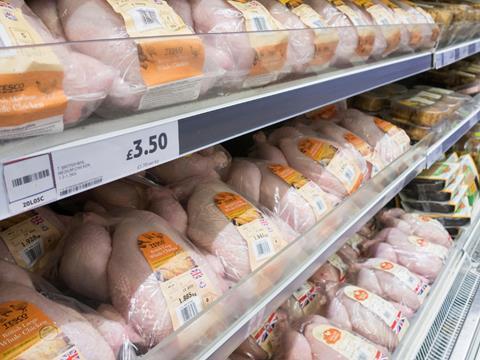 Top story
2 Sisters owner Boparan has raised £475m of new corporate bonds to refinance existing debt and provide a platform to accelerate its turnaround plans.
The new £475m of bonds issued by Boparan Holdings Ltd mature in 2025 and refinance in full existing bonds and loans that were due to be repaid in 2021.
The company said investors across the UK, US and Europe have backed the group in a fundraise which will allow the business "to cement its progress over the past two years and provide the funding to build on a strong full-year financial performance".
It is understood that Boparan Holdings president Ranjit Boparan backed the fundraise by buying bonds worth £50m.
In addition, a new £80m revolving credit facility has been agreed, which provides the group with an option to increase to £90m should the need arise in the future.
2 Sisters said this refinancing will enable the business to push through the next stages of its development, including accelerating sales and margin performance in its core poultry and meals divisions and enabling further cash generation.
Craig Tomkinson, Group CFO, explained: "This is very good news for 2 Sisters and its stakeholders. It shows great confidence in our business and by securing funding until 2025, gives us the freedom to execute our plans for the future.
"We are very proud of our results to date in the turnaround of the business, and the de-levering of our balance sheet. This refinance marks a milestone in the progress of the turnaround plan, and gives a platform for further improved free cash flow generation into the future.
"Not only is this good news for our business, but all 18,000 colleagues, 16,000 members of our pension schemes, and our investors. Further, it provides security and reassurance to the thousands of jobs and livelihoods across our wider supply chain – customers, our suppliers and in turn their suppliers.
"We are upbeat about our growth plans and see further opportunities for 2021 as we prepare for a post-COVID and post-Brexit environment."
Ronald Kers, Group CEO, added: "It is very gratifying to see the strong support of investors in our new Bond offering, which underlines the market's confidence in our business and its belief in our on-going turnaround strategy.
"We are also pleased with the acceleration of our performance over the past 18 months, and despite the challenges that COVID brings with it, we are confident about our future plans and our ability to continue to improve our business.
"We would like to thank our bond investors for their continued support and of course all of our colleagues who have helped us to make the turnaround happen."
2 Sisters most recent quarterly results stated that its turnaround momentum has been maintained through the COVID-19 period, with margins in particular being boosted by increased demand for supermarket chicken.
Like for like revenue for the three months to the end of May increased 1.6% after adjusting for the sale of Green Isle Brands and Matthew Walker, while EBITDA rose by 45.2% due to the turnaround of its core poultry operations
Morning update
In this week's edition of The Grocer, two direct-to-consumer alcohol brands are seeking new buyers to capitalise on the uptick in demand during the COVID crisis, Greencore boss Patrick Coveney on the durability of the food to go sector in the current lockdown, Graze sales fall flat under Unilever and more.
Click on thegrocer.co.uk later today for the full stories.
Elsewhere, Heineken has nominated Nitin Paranjpe, chief operating officer of Unilever, to become a member of its supervisory board for a four year term.
Paranjpe, an Indian national, has been COO of Unilever since 1 May 2019 and a member of the Unilever Leadership Executive since October 2013. Prior to becoming COO, he led Unilever's global Food and Refreshment as well as its global Homecare division.
Over the years, he has worked in Europe and Asia and has gained extensive experience, amongst others, by delivering strategic transformation and growth initiatives, accelerating digital capabilities through new data-driven tools, and acquisitions of strategic purpose-led businesses that reshaped Unilever's portfolio.
Heineken chairman Jean-Marc Huët commented: "We are very pleased with Nitin Paranjpe's nomination. Given Nitin's successful career and extensive global experience at Unilever, particularly in Asia, he will add valuable FMCG experience to our Supervisory Board.
Nitin's consumer and customer-centric insights will be highly valuable to Heineken, as the company embarks on its next growth phase in which it aims to increase adaptability in a dynamic environment. His experience in mature and emerging markets and Asian background will also further strengthen the diversity within our Supervisory Board."
Paranjpe will succeed Christophe Navarre who will reach his maximum tenure upon conclusion of the AGM in 2021.
Huët added: "We have been very fortunate having Christophe Navarre on our Supervisory Board, he has been of great value in our discussions over the past years in which we benefitted from his knowledge, international experience and strong belief in Heineken as a long-term growth company."
On the markets this morning, the FTSE 100 has opened up down 0.6% at 6,324.5pts.
Fallers so far this morning include McColl's, down 6.1% to 26.3p, WH Smith, down 4% to 1,380p and Science in Sport, down 3.2% to 30p.
Risers include Naked Wines, up 1.7% to 549p, Finsbury Food Group, up 1.4% to 77.9p and McBride, up 1.3% to 64.8p
Yesterday in the City
FTSE 100 closed down 0.4% at 6,362.9pts yesterday.
Food to go players continued their recent volatility, with many amongst the biggest losers.
SSP Group fell 4.6% to 334p, WH Smith, was down 4.1% to 1,438p, Marks & Spencer fell 3.8% to 130.2p and Greggs was down 2.9% to 1,747p.
Also down were Cranswick, down 2.8% to 3,298p and Nichols, down 2.3% to 1,065p.
The day's risers included Glanbia, up 3% to €10.04, Reckitt Benckiser, up 2.5% to 6,602p, Majestic Wine, up 2.3% to 540p, PZ Cussons, up 2.2% to 230p and Finsbury Food Group, up 2.1% to 76.8p.
Britvic ended the day up 1.4% at 821.5p as it reported a sales decline 6.8% to £1.4bn in the year ended 30 September, falling 8.6% when taking exchange rate movements into account.