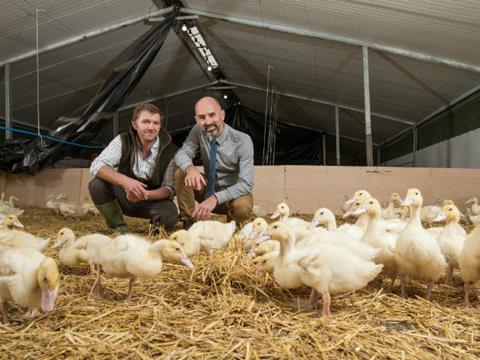 A Devon duck and quail egg producer that supplies the Clarence Court brand has secured a six-figure bank funding package to expand its output.
Henland Farm, also known as West Country Quail have used the funding from HSBC to buy an additional 3,600 ducks – more than doubling their duck egg production – as well as purchasing processing equipment to allow them to process their own quail meat.
The finance package has also helped Marcus and Liz Warner, joint tenants of the 180-acre Devonshire farm, to build a new housing facility for the ducks.
The duo currently sell duck and quail eggs to high-end supermarkets, including Waitrose, through the Clarence Court brand.
They plan to expand the business by entering the quail meat industry to meet rising demand from restaurants in the local area.
"Neither Marcus nor I are from family farms, which meant when we took on our first tenancy, we struggled to find funding," Liz Warner said.
"Thankfully, HSBC has extensive agriculture experience and was willing to take us on as ambitious tenant farmers and support us with our growth plans. Our relationship manager, Graham Underhill, was very supportive of our ambitions and we look forward to working with him again on our future projects."
Euryn Jones, HSBC regional agriculture director in the South West and Wales, added: "Marcus and Liz Warner identified a demand for quail meat and duck eggs and approached HSBC to help them expand their business. With the necessary funding now in place, they will be able to supply duck eggs and quail meat on a much larger scale. We look forward to supporting them in their future plans."