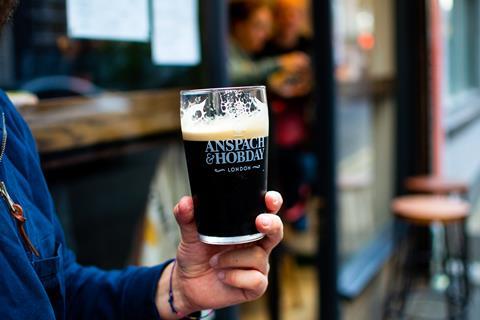 London-based craft brewery Anspach & Hobday has raised £440k to upgrade its brewery to boost production of its London Black rival to Guinness.
After launching the £300k crowdfunding campaign last week, the independent brewer is currently overfunding having raised £443k so far from 373 investors to value the business at £4.9m.
The funds will be used to further the distribution of its London Black nitro-porter, designed to rival Diageo's Guinness, which it created in May 2021.
The brewer plans to double batch volume, upgrade its canning line to create off trade canned sales of London Black and support the beer wholesale growth with marketing
Since the launch of London Black the brewer has already landed 30 direct permanent lines and sold over 450 kegs.
The raise follows on from a previous 2018 campaign where 524 backers invested £525,250 into the brewery to help expand production to a new site in Croydon, transfer from bottled to canned beer and renovate its Bermondsey site.
These investments have enabled the brewer to grow 31% year-on-year despite the pandemic, with the company reaching the milestone of £1m turnover in the 12 months to October.
Chairman and Co-Founder Jack Hobday says: "It was a triumph for our brewery to continue to grow throughout the pandemic. We are proud of our team and the success of the beers we brew but it would have been all harder without the fantastic support of our crowdfunder base built in 2018.
"We are raising now to underpin that growth and capitalise on the opportunity that London Black offers. It is really exciting to be able to welcome more to join our company in this next step of our journey."
Head of Production and co-founder Paul Anspach added: "London Black represents a legitimate, independently brewed, craft alternative to the macro brand that dominates the sector, benefiting both the publican and customer alike. London Black is about choice.
"As a brewery, it enables us to answer a genuine need within the industry, and we have absolutely loved watching it gain traction."