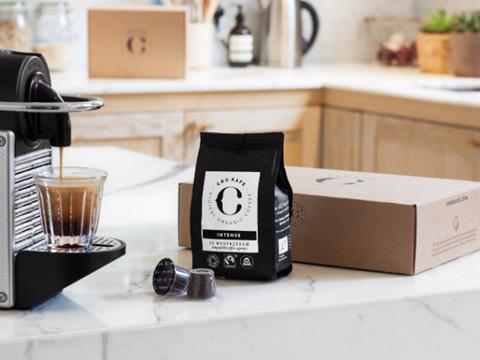 Coffee pod start-up Cru Kafe has raised £1.3m to grow overseas, build the management team and help launch the world's first compostable capsule containing organic and sustainably grown coffee.
The London business expects its Nespresso-compatible pods in compostable packaging to be in shops by early next year.
Cru Kafe is also using the money to diversify the product range into coffee beans and ground coffee.
It secured the investment in a fundraising round led by Seedcamp, which focuses on backing early stage businesses in Europe, with investors including fashion entrepreneur Carmen Busquets, who was involved with Net-a-Porter.
Sales of coffee pods are soaring in UK grocery, up 29.5% to £137.5m in the past year [Kantar Worldpanel 52 w/e 22 May 2016], with no sign of a slowdown to come as forecasts put the figure at as much as £499m by 2020.
"Our foundation is in a great position and now it's time to start adding weight in the form of new customers, products and territories," said Cru Kafe co-founder and CEO Colin Pyle.
"While pods are at the core of the business, we're diversifying our product range and are now offering our customers bean and ground coffee. In addition, we're close to launching a fully compostable pod."
Pyle added that the business, which launched in 2013, is now selling 500,000 capsules per month and exporting to Hong Kong, the Middle East, North America and the rest of Europe. Revenues have risen to £2m after growth of 20% month on month since the launch.
Nestlé has dominated the coffee pod market for years, but its patent expired in 2013 which opened the market for new entrants.
Coffee pods popularity was cemented in March when they were added to the Office for National Statistics' basket of goods used to calculate inflation.
However, there has been concern among consumers about the levels of waste and amount of pods going to landfill.
Cru Kafe positions itself as an eco-friendly and ethical business, committed to only buying organic from sustainable growers. It claims its new pods will be the first compostable capsules in the world to contain organic and sustainably grown coffee.
"Ever since we started Cru we've been on a mission to improve the environmental sustainability of the single-serve coffee industry," Pyle said.
"However, it's clear that the single-serve coffee industry isn't going anywhere, so we've decided to give customers what they want but without hurting the planet at the same time.
"Compostable capsules will be the norm in a few years as consumers are starting to demand it and rightly so. We hope to be able to offer our customers a fully compostable capsule in a compostable bag by next year."
Pyle, a chef with his own YouTube channel on Jamie Oliver's Food Tube Network, founded the business with John Quilter and Bodil Blain.