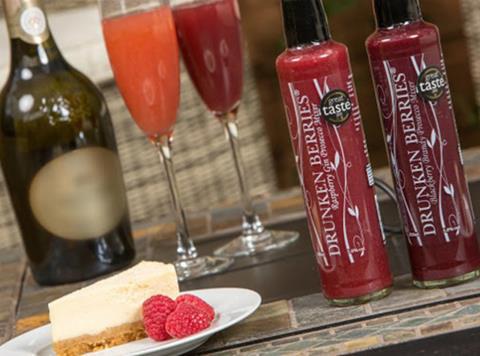 Drunken Berries, a range of Prosecco drinks mixers, is poised to hit Tesco shelves thanks to the retailer's BackIt crowdfunding scheme.

The mixer lineup, which can also be used as a dessert drizzle or included in sorbet, is made with 'high quality' gin and brandy blended with puréed berries, caramelised sugar and lemon juice.

It was launched by wife-and-husband team Gemma and Andre Glanville with the help of Tesco's BackIt crowdfunding scheme, introduced to help boost small suppliers.
Drunken Berries has raised just over £4,000 - more than double its target - from 121 backers at the time of writing, with two days left to the campaign. The business said in its pitch it would use the money for an ecommerce site and a social media advertising push.
After becoming the first start-up to hit its funding target through the scheme, revealed by The Grocer in September this year, Drunken Berries stands a good chance of securing a listing with Tesco, though this has not yet been confirmed by the retailer.

Tesco, which does not take commission from the platform helps the small businesses involved with advice and mentoring. The dedicated site, backit.tesco.com, also provides links to videos about the companies involved.