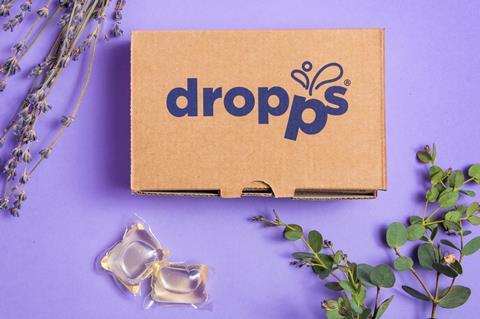 Eco-friendly cleaning products supplier Dropps has secured a multimillion-dollar investment to scale up and meet growing demand for its subscription business.
The US-based DTC firm, which claimed to have invented the first laundry detergent pod in 2008, raised $16m from San Francisco-based fund The Craftory.
Dropps will use the cash raised to expand its team and product development capabilities as it grapples with soaring demand for its non-toxic, plant-based, plastic-free cleaning products.
"The Craftory is an ideal partner for our business and I'm humbled by their investment," said founder and CEO Jonathan Propper.
"Their founders and operational team provide more than just money to their portfolio companies. In addition, The Craftory's revolutionary investment philosophy aligns well with our mission-driven values so we can maintain our triple-bottom line of social, environmental and financial impact."
The company's laundry and dishwasher pods are available in half-dose sizes, allowing consumers greater control over the amount of detergent used in each wash and reducing the polluting impact on oceans, rivers and lakes.
Since its launch in the US in 2008, Dropps claims to have prevented nearly one million single-use plastic bottles, jugs and tubs from polluting oceans and waterways as its products come in zero-plastic packaging.
A potential UK launch was also on the cards, Propper said, though not in the short term.
"The UK is a great market for DTC, probably even better than the US," he added. "It has such a long history of catalogue business and DTC is just an electronic catalogue, so we are not counting a UK launch out, but we will be focusing on the US for the near future."
Elio Leoni Sceti, co-founder of The Craftory, said: "Dropps is a model challenger brand making the right choices for the planet and its consumers."
The Craftory's other co-founder Ernesto Schmitt added: "When a third of all detergents are wasted and with a supply chain built on single-use plastic and unnecessary chemicals, anyone can see that this is an industry crying out for innovation.
"We were drawn not only to the mission-based approach of the Dropps team but also the 'no bullshit', simple approach they take to fixing a broken industry."