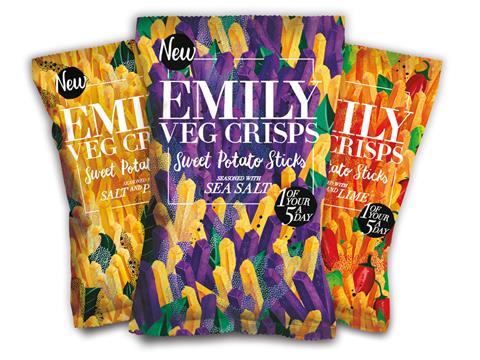 Fruit and vegetable snack brand Emily Crisps has reached out to the crowd for a cash boost to propel brand awareness and distribution across the UK ahead of a possible US launch next year.
The high-end crisp brand has almost completed a £1m crowdfunding raise in order to drive recruitment, marketing, and improve awareness in the UK.
Since its inception in 2014, the supplier has grown rapidly across the UK market and is now listed by Sainsbury's, Tesco and Waitrose, as well as establishing cross channel distribution.
In the summer, the start-up secured listing with Sainsbury's and Tesco's for its newly developed sweet potato stick crisps.
Increasing the distribution of this specific product and increasing brand awareness through a strategy involving sampling and events, is a key part of the company's growth strategy for 2018, it said.
Sales have doubled year-on-year since its launch, the crisp manufacturer said, with sales expected to be similarly strong in 2018.
"It's really important right now that the focus is on the UK. We are just looking at the natural evolution of the brand, and we have started in London and the South East so we really want to continue strong growth further in the UK," commented founder Emily Wong.
"The funding will be to drive the launch of our sweet potato line across the UK. We started the convertible fundraise a few months ago with those we have worked significantly with, and there were lot of people who wanted to get on board so we started to crowdfund to bring on those people who would champion the brand.
"We are very much a brand that when people try it they buy, so our brand growth strategy is simple as getting samples out, targeting people and targeting events."
The current crowdfunding campaign is specifically intended to invest in the UK business, the founder said, but that next year an equity fundraise will take place to secure funding for a potential US launch in 2019.
Emily Crisps has continued to grow the back of an investment deal in late 2016, which involved the sale of a 'significant' minority stake to investment vehicle Inverleith LLP & Hothouse Brands Ltd.
The seven-figure deal saw the brand's co-founders, Emily Wong and Alex Ascani, take on the roles of chief executive and chief operating officer respectively, introduced "industry experts" to its board and helped to grow its vegetable crisp range.