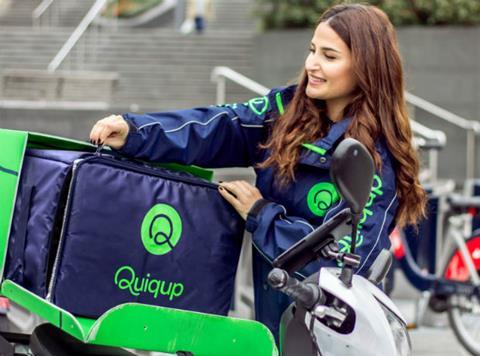 Express delivery service Quiqup has raised £20m in private funding to fuel its geographical expansion and grocery ambitions.

The startup company, which has begun operating a delivery service for Whole Foods Market, Burger King and Tesco in London over the past year, secured New York fund Jobi Capital as its lead investor.

The rest of the multimillion pound sum came from Transmed - a leading fmcg distributor in the Levant, Gulf, and Africa - and investors from its previous funding round in 2015.

Quiqup will use the funding to set up its third party delivery service in other major UK cities and to kick-start its international expansion.

The company will also look to improve the routing and dispatching capabilities of its service, which promises to 'shop, pick up and drop whatever you need, on demand'.

The startup is also set to expand its range of services to attract more major retailers, although it would not reveal details. The company already offers a consumer-facing mobile and web app, a web app for smaller retailers, and a service that incorporates Quiqup delivery into the website of large retailers.

Grocery is a key area of focus for Quiqup, which has delivered over 550,000 orders since its launch in September 2014.

Last week it emerged Quiqup was providing the one-hour delivery service for the trial Tesco Now app in central London. And last June the company won a contract with Whole Foods Market to conduct a picking and delivery service from seven of its London stores.

Quiqup's Bassel El Koussa revealed grocery had grown to account for 25%-30% of its business, which is growing at 170% year on year. "We think grocery is about to come on to this on-demand economy. It will definitely be a focus for us," he said.

El Koussa said its expanding geographical coverage should help progress its ongoing discussions with retailers. "We hope that the fact we are expanding will give us more visibility in the market and also give our partners and clients the ability to work with us not just in one geography," he added.