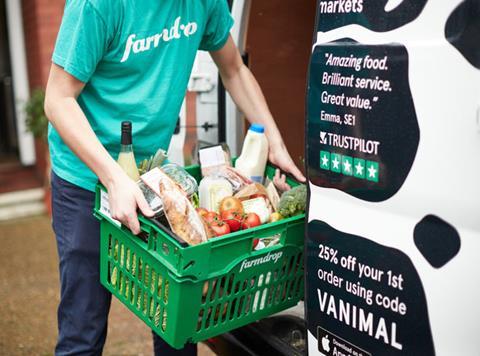 Local produce delivery firm Farmdrop plans to expand from London and Bristol into the South East and North after landing £10m in funding.

The company, which delivers directly for local farmers and producers, aims to double the number of households it can reach from two million to four million in the next six months by expanding from inner to greater London.

It will then open its first northern operation, in Manchester, by the end of next year, taking it well beyond its current territory of London, Bristol and Bath.

The funding has come from a "combination of existing and new investors" according to a spokesman, namely LGT Impact Ventures UK, Atomico and Belltown Ventures.

It brings the total raised by Farmdrop, launched in 2014 to link food producers directly with customers, to over £20m.

The business sells over 2,000 products including meat, dairy, fish, organic fruit and veg plus household supplies, ordered through Farmdrop's website or iPhone app.

Average month-on-month revenue has grown 10.3% since the first venture investment in March 2016.

Farmdrop says the short supply chain means suppliers get "unprecedented share of the retail price".

"I'm incredibly excited that many more people will soon be able to use Farmdrop thanks to this latest investment," said the company's founder and CEO Ben Pugh. "I'm also thrilled to have the backing from new investors Impact Ventures. They have a formidable track record in helping companies maximise their potential for positive social impact."

Niklass Zennström, Skype founder and Atomico CEO, said: "By creating a direct route to market for farmers, Farmdrop is helping to create a healthier and more efficient supply chain. We're proud to invest in such a fantastic team and are excited about helping them scale their innovative e-grocery platform.