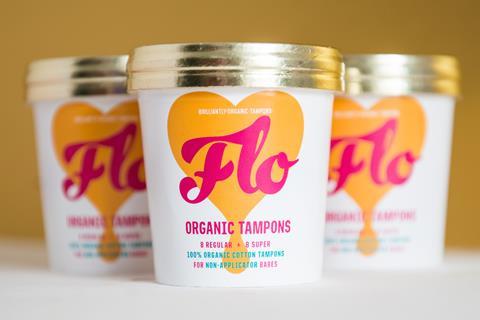 Feminine hygiene startup Flo has secured a seven-figure investment to expand product offering and retail footprint.
Launched in 2017, the femcare brand provides vegan, cruelty-free, sustainable personal care for women, including tampons, pads and liners made from 100% organic cotton or natural bamboo. The tampons' applicators are plant-based, made from sugarcane.
Backers in the latest round of investment include current and former executives at M&S, Graze, Unilever, L'Oréal, Bain Capital, Ernst & Young and Match Group.
Flo will use the cash raised – of which the final amount remains unspecified – to challenge mainstream sanitary protection brands disrupting the sector with a "period-positive activist stance".
The cash will fund a product range extension into sensitive bladder support and sexual wellness products planned for 2020.
"We started out in 30 local shops in Hackney, so our growth is still pretty unbelievable to us," said co-founder and CEO Tara Chandra.
"With this new investment, we look forward to significantly driving growth and fulfilling the increased demand for healthier, eco-friendlier personal care products in the UK, France and beyond.
"We have exciting plans and are thrilled to have the resources and guidance to bring them to life."
Flo is currently available in Planet Organic, Ocado, Amazon, Holland & Barrett and Boots, with further retail partnerships scheduled for 2020.
Internationally the brand exports across the EU, with retailer partners in France, the Netherlands and Germany. Retail launches in South Africa and the US are planned for summer 2020.