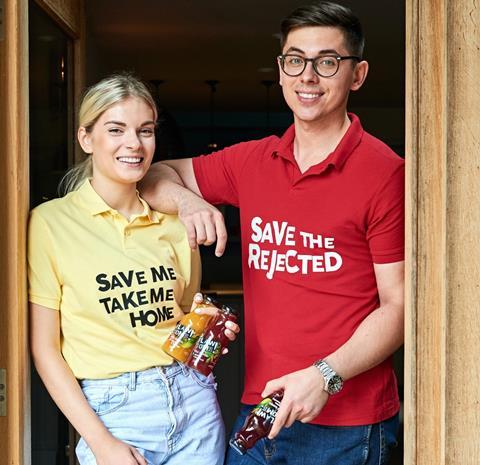 Wonky fruit juice startup Flawsome has raised £200k in new backing to boost its foodservice distribution and push for a return to supermarket shelves.
Co-founder Karina Sudenyte expected the funds to "turbo-charge" growth at the business, which is also aiming to be the leading sustainable and healthy juice brand in schools nationwide.
Flawsome is available at more than 2,000 distribution points internationally, including a listing with Italian restaurant chain Zizzi.
The brand lost its retail listings with Sainsbury's and Morrisons in 2022 after being hit by global supply chain disruption, but is now eyeing a return to the channel.
Sudenyte said the business – which she founded in 2017 alongside husband Maciek Kacprzyk – achieved profitability in May last year.
"The last four years have seen us successfully establish a comprehensive one-stop shop for the most sustainable beverages in the UK market while also reaching significant financial milestones," she added.
The latest investment round was joined by Rahul Kadyan, a former executive vice president at Reckitt Benckiser, who has more than 25 years' experience in the industry.
It takes the amount raised by Flawsome to £1m, with previous angel backers including Stefano Giolito, former global head of sustainability at Unilever.
Kadyan said: "I look forward to working closely with the Flawsome team on their innovation and marketing as they scale up the business and prepare for a relaunch into retail, build their e-commerce business and also as they look to expand beyond the UK into new markets."
The B Corp scored a UK first earlier in the summer with the launch of a carton range using eco-friendly paper wrapping for its straws.
It has also saved more than 42 million pieces of wonky and surplus fruit from going to waste and said it was on track to rescue 20,000 tonnes by 2026.
"With the invaluable support of our esteemed board members and investors, we are strategically positioned to achieve our vision of becoming the leading sustainable juice brand within the UK foodservice sector and the preferred choice for healthy soft drinks in schools nationwide," Sudenyte added.