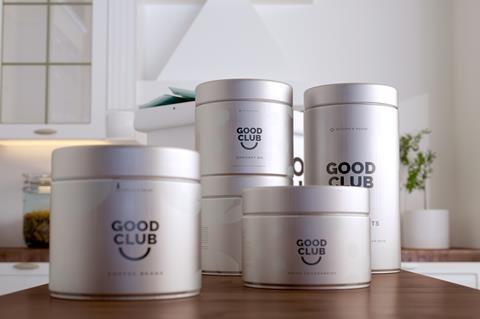 Zero-waste supermarket Good Club has smashed its crowdfunding target once again as it prepares to accelerate the rollout of its closed-loop system.
The DTC grocer has raised £655k from 354 investors on Crowdcube so far, including previous backer and impact fund Mustard Seed.
The current fundraising drive, for 14% of equity, values the business at £4m.
Having previously raised around £1m, Good Club is willing to overfund up to a maximum of £1.3m, co-founder Ben Patten told The Grocer.
"We have already got what we budgeted for to achieve our objectives over the next 12 to 18 months but given that there will remain a certain level of uncertainty going forward, we think it is prudent to take a bit more," he added.
The funds will be used for a quicker rollout of the company's closed-loop service for its packaging, after having successfully held trials last year across 30 SKUs. Shoppers will receive the products in non-plastic packs that can be returned, cleaned and refilled.
Further cash will enable for more social media and marketing spend to "build our tribe", Patten said, following the appointment of former BrewDog social media manager Lara Lipscombe-Southwell as content and social marketing lead this month.
Another recent hire is Jennie Gower-Smith, who joins as finance director having held the same rose at Marks and Spencer. Good Clus is also on the lookout fot a lead merchandiser to complete the team for the next phase of expansion.
The startup, which now offers over 4,000 "sustainable staples" across ambient and non-food categories, has seen sales skyrocket by 1,200% to £234k monthly revenues in May 2020, reaching almost 3,000 monthly customers.
The coronavirus pandemic led to an acceleration in sales as interest for home-delivered staple grocery products increased, with the business opening its first distribution hub in North London to meet demand.
The virus, however, put on hold an extension to the closed-loop trials in March as shoppers switched to packaged groceries – which they considered safer.
"There were some concerns among customers initially with reusable packaging but those have receded and now we are in a much stronger position to roll out those trials and extend the reusable delivery boxes to all of our customers," Patten added.
"It is going to be an exciting time to be able to offer solutions in the area of sustainability and packaging-free.
"It is very important to be ambitious in this field because it is always important to remind oneself that the science around climate change and plastic pollution is not just abstract, these are real problems that are affecting every part of the food supply chain and ultimately society and these problems are not going to go away by themselves."