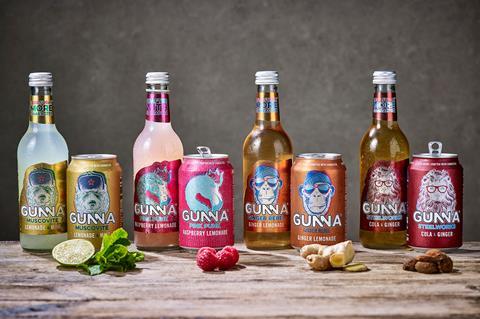 Drinks startup Gunna has hit its £500k crowdfunding target within a day of launching publicly, as it looks to fuel its ambition of becoming the UK's 'number one craft soft drinks company'.
Providing low-sugar alternatives to traditional soft drinks, the company took to Seedrs four weeks ago, opening to the public today (7 October), offering a 12% stake for a pre-money valuation of £3.8m.
Within hours of public launch, Gunna has already raised £524k.
It is now open to overfund, having set his sights on the more ambitious aim of "at least" £800k.
Gunna plans to use the money raised to fund marketing spend – including social media marketing – and NPD. It will also aim to grow listings within national and international retailers.
"Very much like craft beer, we are seeing a really big boom in consumer and retailer interest in craft soft drinks," said founder and CEO Melvin Jay.
"We are at the beginning of a super exciting phase of growth but that means that to realise this opportunity there is a lot of work to do."
In April, Gunna inked a partnership deal with Euro Food Brands to build its distribution within UK retailers.
The company's four-strong range – including Raspberry Lemonade, Ginger Lemonade and Cola & Ginger – is already available at Asda, Ocado, Co-op and Sainsbury's, among others.
The business has also put "an eye" on the growing mixers market, as it plans to bring out mixer-friendly pack formats within the next year.
So far, Gunna has seen 44% turnover growth in the 12 months to July and expects its revenues to triple for the year ending November, reaching just over £500k.
This isn't the first time Gunna has turned to the crowd: in 2018 it raised £850k, overfunding by 64%.