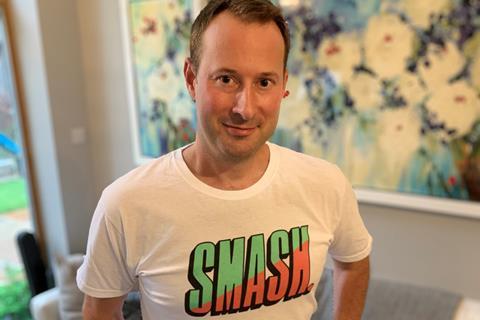 Tech startup Smash, which aims to offer young people discounts on healthy food, has secured £1m in funding to launch its new app, and announced the appointment of Ella's Kitchen founder Paul Lindley as chairman.
Smash – Save Money And Stay Healthy – is set to launch in early 2021. It has been founded by ex-KFC board member Chris Holmes, who was most recently MD at Italian restaurant chain Ask.
Along with the appointmenet of Lindley, Jamie Oliver head of nutrition Jenny Rosborough will sit on the advisory board.
The new app will offer 13 to 24-year-olds up to 20% off healthier food options at food-to-go retailers.
Retailers and high street food chains are among the businesses in talks with Holmes and Lindley to join up to the scheme.
Guy's and St Thomas' Charity, the London-based urban health foundation, is a major shareholder – supporting the startup with a £1m investment.
Smash will be free to download and will show the closest participating outlets, as well as the healthier options to choose from.
The menu can be browsed by retailer, nutrition content and food type, as well as through vegetarian, vegan and gluten-free filters.
Users will be able to access an instant discount by scanning a QR code at the point of sale.
Age verification software on sign-up will ensure a customer's eligibility.
"With Covid shining a light on the risks associated with obesity and the government's decision to ban unhealthy food advertising both online and on television before 9pm, this is absolutely the time to create an environment where healthier options are more affordable, accessible and engaging to young adults," said Holmes.
"It's a straightforward idea applied to a massively complex problem shaped by environment and income inequality. We need to change the dynamic and make healthier food the cheaper and most accessible option, essentially we plan to be the Young Person's Railcard for healthy food – albeit digital, free and fun."
Guy's and St Thomas' Charity CEO Kieron Boyle added: "We're very excited to be supporting this new platform. The places kids hang out are flooded with prompts to eat unhealthily – especially in poorer areas. We need new thinking like Smash to put healthier food centre stage.
"We're delighted to see businesses and investors stepping up to their responsibility to ensure that all children grow up healthily, no matter where they live."