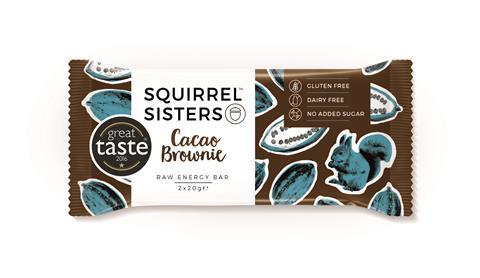 Healthy snack bar business Squirrel Sisters is looking for £185k in investment to pump into increasing distribution, marketing and NPD.
The company which sells gluten-free and dairy-free raw energy bars in stockists including Boots, Ocado, Morrisons and Selfridges said it needs extra investment to meet growing demand for products.
Ahead of a listing with Waitrose beginning next week, the company said it hopes to overfund its £185k target to £250k, offering 6.89% equity on the pre-money valuation of £2.5m.
The company had a turnover of £270k for the financial year ending March 2018 and is projecting a turnover of £1.1m for the next financial year.
The crowdfunder is currently listed privately on investment site Crowdcube, giving private investors known to the company an opportunity to become involved prior to making the campaign public.
The snack bars are currently stocked in over 1,000 retail stores, and co-founder Gracie Tyrell said she aims to increase this to 2,000 by the end of 2018.
"Waitrose is stocking us from 23 May – that's quite exciting and we will be going into impulse sections of stores, whereas in Morrisons we are in free-from, so that's exciting. And we will be in BP forecourts from the end of May," she said.
"If everything goes to plan, and gets confirmed with other retailers we are speaking with. We would hopefully be in around 2,000 stores by the end of 2018."
Funding from investors will directed into increasing distribution, recruitment, marketing and NPD.
"We are looking to raise £180k with hope we will overfund. "Now we are at a stage where we are obviously growing and getting into more supermarkets – we are about to go into Waitrose, and are also going into BP M&S forecourts, and we are talking to a lot of other major retailers across the UK," commented Tyrell.
"We really do need that cash to go towards distribution, to grow the team, do more marketing activities and we also have some new products we want to bring out, but have put on hold.
"We've seen 70% growth. We've doubled our stockists in the last year, with Morrisons our biggest retailer. We are in 300 stores and selling really well, with boots our second biggest retailer. The health market in general is just booming and I don't necessarily see it as a trend. I think it will stick. People want something healthy, but not boring, and I think that's something we succeed at."