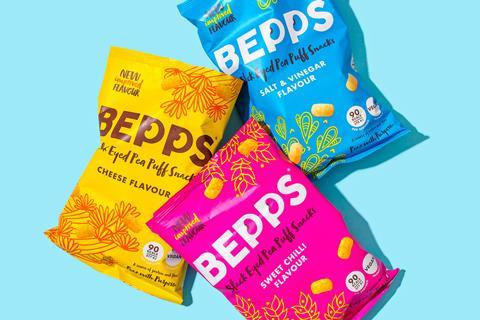 Pulses-based snacking startup Bepps has closed a six-figure round of emergency investment to support the brand during the coronavirus crisis.
The 2018-established business was able to raise between £100k and £200k from 4 existing investors.
"This year has been absolutely crazy for any startups, between Brexit and Covid-19 things have been insane," founder Eve Yankah told The Grocer.
"We have been really fortunate with our existing investors and their willingness to support us. To raise that much during this time was incredible."
The company was in the process of setting up a bigger investment round – including new investors – when the coronavirus crisis hit and many potential new backers pulled out wanting to wait for "things to blow over", Yankah added.
In mid-March, she realised consumer behaviour was rapidly changing and rushed to set up an Amazon store.
After seeing initial sales rise 400%, she was able to approach existing investors showing the brand's recent growth, and secure the emergency cash.
"We needed to show our investors something," Yankah said. "We don't know which of their investments tanked because of the crisis, so we couldn't just go to them with our hands open asking for money."
The company will now use the funding secured for trade promotions across the online and grocery channels in order to fast-track its growth, as well as looking into restructuring – including working from home arrangements – and supply chain optimisation.
Bepps' snacks are made from black eyed peas, containing higher protein, less fat and better fibre compared with quinoa, lentils and chickpeas.
Its products are currently listed in Tesco, Whole Foods Market, Planet Organic and As Nature Intended.