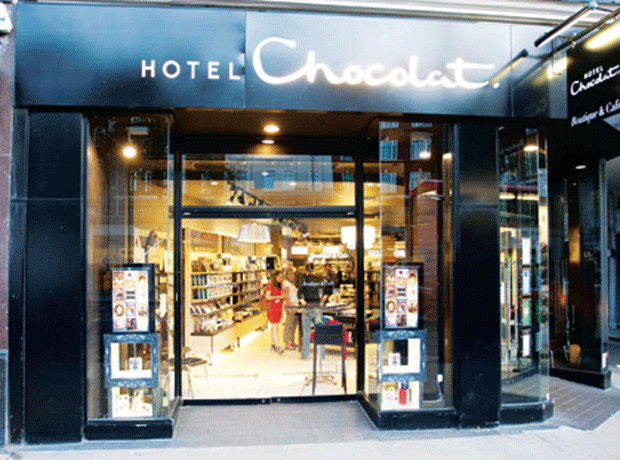 Hotel Chocolat is plotting the first major food and drink IPO on the London Stock Exchange for 15 months, expected to value the luxury chocolatier at about £150m and giving its two founders a shared £40m pay day.
A planned £50m placing on London's junior AIM exchange is set to take place before the end of June, with CEO Angus Thirwell and co-founder Peter Harris taking £20m each out of the business.
The remaining £10m will be used to expand its network of 84 shops in the UK, and in Denmark, increase manufacturing capacity and launch a new website with enhanced mobile compatibility.
Thirwell and Harris, who founded Hotel Chocolat in 1993, will keep hold of a 75% shareholding following the flotation, expected to take place before the end of June.
If the float goes ahead it will be the first major food and drink listing since Fever-Tree got away a £93m IPO in November 2014 (valuing the company at £154m). United Biscuits, Moy Park and, more recently, Brakes have all flirted with flotations in the two years before selling to private overseas buyers.
Thirlwell said there had been lots of interest from the private equity community but the IPO route allowed him to protect the brand.
"A flotation enables us to continue to own a majority of the business and at the same time raise some really good development capital.
"We have built Hotel Chocolat over the past decade by focusing on the underlying brand pillars of being original, authentic and ethical. Above all we wanted to protect that and continue to nourish the brand for the long run. With PE sooner or later you end up having to cede control to other people. That might lead to putting in jeopardy some of the principles of Hotel Chocolat and we weren't prepared to go down that route."
Hotel Chocolat, 16th in The Grocer Top 50 Independents 2016, is one of the few remaining larger UK chocolate brands to maintain its independence following the £112m sale of Thorntons to Ferrero last year.
The group returned to profitability in the year ended 28 June 2015 after ditching its costly trial into the US and taking tighter hold of costs. Pre-tax profits leapt to £3m from a £7m loss in 2013/14 as group sales increased 10.2% to £81.1m, with five million transactions and a £15 average transaction value.
Thirlwell said the risks of coming under closer public examination with a stock market listing was outweighed by the benefits of raising more capital to fuel faster growth.
"It is about entering next chapter of Hotel Chocolat," he added. "We're in good position and achieved a certain amount of resilience in business model. The last thing I would want to do is put ourselves out there if I didn't feel we were a suitable business to be under scrutiny."
After opening the first retail outlet in north London in 2004, Hotel Chocolat now operates 84 shops, including restaurants and cocoa-bar cafes and three Copenhagen sites.
Thirwell expects the rate of expansion to move up from the current average of 5-7 locations a year, with a mix of larger stores, convenience outlets in train stations and cafes. He added Denmark would continue to be used as a test bed for international expansion before moving on to bigger markets.
Hotel Chocolat also owns its own cocoa plantation on St Lucia, with a luxury hotel on the site.
Liberum Capital is acting as nominated advisor and sole broker to the company on the float.