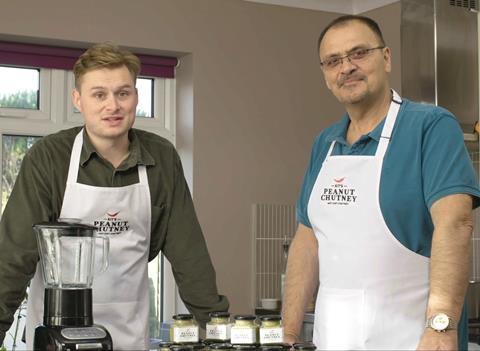 Condiment start-up Kit's Peanut Chutney is reaching out to the crowd for £100k in funding to invest in marketing and production.
The peanut sauce brand was founded last year by former Candy Kittens head of digital marketing Max Maharajh and his uncle Kit, based on a traditional family recipe.
The chutney, made with peanuts, chilli and fresh herbs, is based on 100-year-old family recipe and can be used as a dip, spread and marinade.
Potential investors have been offered 10.5% equity for the target based on a £850 pre-money valuation for the brand, which is sold across independent grocers and chains, including Eat 17.
More than 70% of the target has been raised to date, with significant investment from a number of individuals including Smith's guitarist Johnny Marr.
Equity raised during the campaign will go towards marketing and packaging improvements, the founders said.
After launching the brand in the spring, Max Maharajh left premium confectionery brand Candy Kittens at the end of 2018 to focus his efforts on the family business.
The marketing specialist featured in The Grocer's power list of 'the 10 biggest social media power brokers in grocery' in August.
"In our budget from the money raised, a considerable amount will go into marketing and that's my background. I think it's important to educate people on how they use it," commented co-founder Max.
"There are hundreds of peanut butters, and I found it interesting that no-one was putting spice in there. We saw a bit of a gap in the market, and although it's an old family recipe it is definitely something new to a lot of consumers and the response so far has been fantastic."