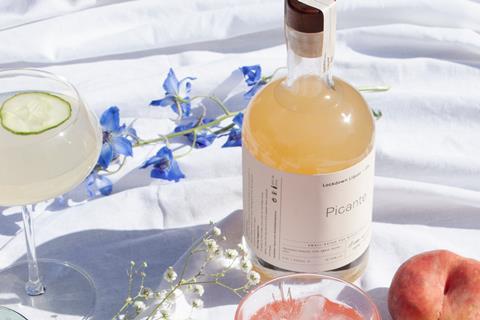 Alcoholic drinks startup Lockdown Liquor & Co, which launched during the first peak of the coronavirus pandemic, has raised more than £300,000 in its first ever funding round.
Husband-and-wife team Natasha and Jack Durling founded the brand in April to take advantage of the sudden spike in demand for alcohol at home. Six months on, the fundraising values the company at more than £4m and gives 8% equity to the new angel investors.
Lockdown Liquor produces a five-strong range of small-batch, premium blended cocktails and has sold more than 10,000 bottles since inception, with a turnover of about £250,000 to date.
The range is available in three measures: the 'Biggie' (1.5-litre, offering 12 serves), the 'Midi' (500ml, offering four serves) and the 'Little' (200ml, offering one to two serves).
The business said it would use the cash raised to scale up and fulfil the phase-one growth plan. It is currently focused on securing distribution channels across retail and hospitality, hiring operational and logistics staff, as well as growing the sales team.
Natasha Durling said: "We are delighted to have obtained investment, not only to fulfil our ambitious growth plans, but to be able to cement our intention from the start to give back and support those causes that were fundamental to our original initiative."
The business also confirmed a collaboration with Founders Pledge, a global charitable community of entrepreneurs. Members commit a chosen portion of their current or future personal wealth to charity.
Lockdown Liquor has pledged 13% of any eventual sale of the business to charities focused on Covid-19 related initiatives.
Initially trading direct to consumer, Lockdown Liquor is now collaborating with the likes of Spotify, Facebook, Twitter, Nasty Gal, Arsenal FC, Warner Music, Revlon and Johnson & Johnson.
The business also supplies a number of the hospitality and retail outlets, including Bagatelle Restaurant Group and The Conran Shop.