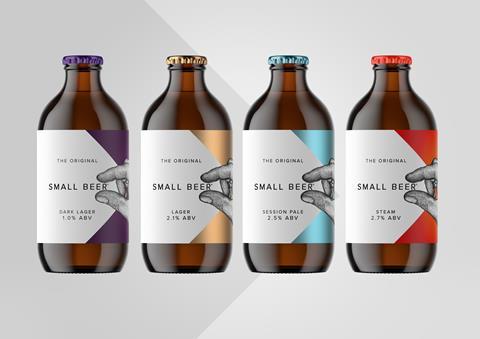 Investors have rushed to pledge support to low-abv brewery Small Beer, which hit its £400,000 crowdfunding target in just two days this week.
The London-based startup raised £750,000 from 555 investors on the Crowdcube platform, valuing the business at £9m, with the campaign closing 24 days early due to the popularity.
Small Beer's brewery is dedicated to the production of classic beer styles below 2.8% abv.
It's four-strong range – Lager, Dark Lager, Session Pale and Steam – is available nationwide at Waitrose and Majestic Wine after winning listings this year.
The business, founded in 2017 by James Grundy and Felix James, who met while working at gin brand Sipsmith, is also exporting to Iceland, Singapore, Hong Kong and Spain
"Off-premise sales continues to rocket, with the likes of Waitrose, Majestic Wine and Ocado consistently over-delivering against targets month-on-month," Grundy said.
"We were absolutely delighted to have reached our target raise amount in a whirlwind two days, such is the belief in the brand, the wider category, Small Beer's future growth and the role it plays as an antidote to drinking at the extremes."
Although supermarket sales in the alcohol category have ramped up this year, with pubs shut during the coronavirus lockdown, the low & no sector continues to grow rapidly in the UK.
In the third week of March, low & no sales in stores saw a 32.5% uplift [Nielsen]. Over a full-year period the category increased in value by almost 14% to £143m, with beer growing 40% within that [Kantar 52 w/e 26 January 2020].
Funding will be used to increase capacity at the brewery to meet rising demand.