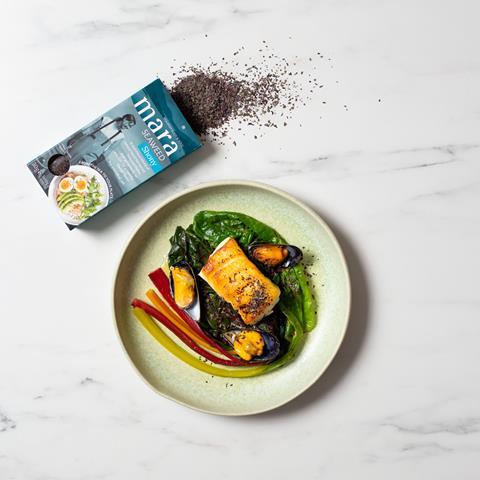 Seaweed brand Mara Seaweed has netted £600,000 funding from the Scottish government to scale its processing and farming capacity.
Domestic and international demand for high-quality seaweed for use as a food source and health supplement is on the rise as consumers seek out nutrient-rich alternative protein and sustainable seafood, according to the business, which launched in 2013.
The money from the £14m Marine Fund Scotland will be used to expand the Edinburgh-based business' factory in Fife to help meet the growing demand and also to increase its footprint overseas.
Mara will take on between five and ten additional employees as a result of the funding, signalling the start of a multi-stage scale up to support the consumer-led brand, NPD and sales and marketing.
The company sources seaweed from a 33km stretch of Fife coastline and processes it into premium ingredients and seasonings.
The brand is stocked by Tesco nationwide, as well as by Booths, Ocado, Amazon and a host of independent retailers.
Mara CEO Fiona Houston said: "Sustainability is the bedrock of Mara Seaweed and seaweed production can play a huge role in helping the world reach its sustainable food systems and carbon reduction targets.
"The prominence of seaweed among well-known chefs, restaurants and in the media is leading to more people trying it, and the more people buy it, the more good we can do for the environment and people's health."
The Marine Fund Scotland replaces the European Maritime and Fisheries Fund following the UK's exit from the EU, supporting the sustainable growth of the marine economy in coastal communities, in sectors such as fishing, aquaculture and seafood processing.
"We are committed to spreading the message and opening people's eyes to the sustainability benefits of seaweed production – it really is the future," Houston added.
"We practice what we preach, and our aim is to be carbon negative within the next few years. This funding will play a significant role in helping us be more energy efficient and meeting that target, while creating jobs."