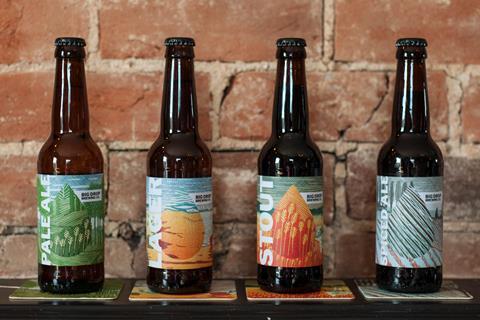 Non-alcoholic craft brewer Big Drop is to mount a crowdfunding drive next month.
The brewer is looking to raise £1m via Seedrs to increase its production capacity, build customer awareness and boost its presence abroad in Australia and the US, as well as the UK on-trade.
Big Drop said its turnover was "edging towards £1m in 2019".
Perks for investors will include online discounts, merchandise, tickets to Big Drop events, a day with Big Drop's master brewer Johnny Clayton, and a hosted trip to Sweden.
Since its founding in 2016, Big Drop has already netted £1.3m from various investors, including a £500k cash injection in 2018 which was spent on marketing and upping production.
There had "always been alcohol-free beer but it's never been any good before", said the brand's founder Rob Fink. "We realised we could create not just the beer we wanted, but a community of like-minded people too."
The brand's range includes a lager, a pale ale, a stout and a spiced ale. In October 2019 it launched a series of 0.5% collaborative brews with big names in craft, such as Harbour Brewing Co and Fourepure Brewing Co.