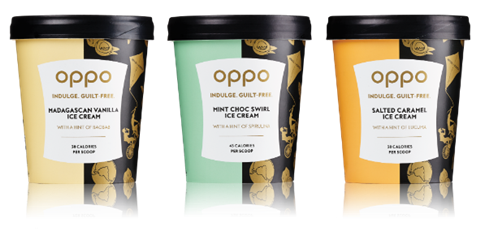 Oppo ice cream has walked away empty handed from Dragons' Den after the five potential investors raised questions over the brand's taste and profitability.
Brothers Charlie and Harry Thuillier, who founded the sugar-free, low-calorie brand in October 2014, went on the BBC programme to ask for £60,000 in return for a 6% stake of the business.
However, after an "assured pitch" and initial positive feedback, dragon Sarah Willingham became concerned about the aftertaste of the product. At first she praised the ice cream as "exceptional" but later in the pitch said there was a stevia aftertaste at the back of her throat.
"That aftertaste is a complete dealbreaker for me as I think it will impact your repeat purchase," she said on the programme, which aired last night.
Peter Jones said the brothers were "incredibly investable" and added that free-from was a growing market, but he also turned the pair down because of issues with the "slight aftertaste". "You need to go back and nail this as you will live and die by the product," he said.
Oppo is currently stocked in 1,300 outlets across the UK, including Waitrose, Ocado, Budgens, Holland & Barrett and Co-op.
Charlie Thuillier was "genuinely surprised" with the comments and pointed to a host of five-star reviews on Waitrose and Ocado websites, as well as on Facebook. "We are always looking to improve it but we are pretty confident that the aftertaste is pretty incredible," he said.
Oppo last week raised £350,000 on crowdfunding platform Seedrs – giving away an 11.3% stake and valuing the company at £3.1m – after smashing the initial target of £150,000 in just six hours. It is the second time Oppo has turned to the crowd, after raising £300,000 in January 2015.
Thuillier stuck by the decision to go on Dragons' Den – at the third time of being asked by BBC producers – and insisted it was never about just raising money.
"We went on for the marketing as we didn't need the money having just gone through the first round of crowdfunding," he said. "There was always a risk going on the show but the primary focus was to put Oppo in the limelight. We reached more than four million viewers, which a small, challenger brand could not afford to do with above-the-line marketing."
The Oppo website had 16,500 unique visits in one hour after the programme aired last night, with the brand also gaining 1,000 new social media followers, featuring in 2,000 tweets (92% of which Thuillier said were positive) and registering 2,500 vouchers to be printed by potential consumers.
"The phone has also been ringing off the hook. We have had calls from four countries about Oppo and one UK retailer has been in touch about a new listing. None of that would have happened without the show," he added.
But there were also concerns raised by the dragons about the financial performance of the business as the brothers said sales in the current year were £60,000 with a net loss of £120,000, which was expected to worsen to £220k in the following year.
Touker Suleyman said he was worried about investing in a lossmaking business, adding he was concerned about the continuation of the losses. "You have spent a lot of money in developing the business and opening doors, I would have thought by now those losses would have started coming down but they are increasing." Nick Jenkins also bowed out and said the reward didn't justify the risk.
Thuillier said they were too conservative with their projections at the time, with latest figures forecasting sales of almost £1m this year, with revenues of £3.2m by 2017 and profits of more than £600,000.
"The programme was filmed nine months ago so it is like looking at a window of what we were like back then and as a fast-paced start-up a lot has changed," he said. Suleyman's team had also since been back in touch with Oppo to ask for a meeting, he added.
Deborah Meaden took herself out the running immediately as she already has interests in another ice cream business, Yee Kwan.