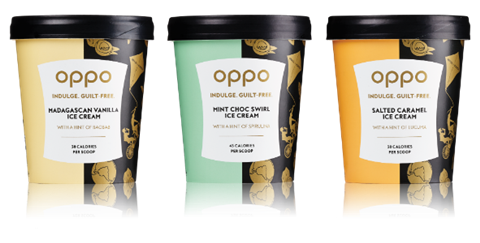 Sugar-free ice cream brand Oppo has raised more than £200,000 in a third crowdfunding round to continue its rapid growth and help the start-up turn a profit for the first time.
The London-headquartered business has now raised close to £800,000 over three campaigns on the Seedrs platform since early 2015.
Oppo hit its £150,000 target in two hours and is currently overfunding, with £207,000 raised from 178 investors – taking its total backers to about 700 across the three rounds, including Sports Personality of the Year Andy Murray.
Launched by brothers Charlie and Harry Thuillier into 117 Waitrose stores and on Ocado in October 2014, the range of three flavours is available across 1,600 stores nationwide, including Budgens, Holland & Barrett and Co-op.
Harry Thuillier told The Grocer that the pitch would remain open until January, with the hope of bringing in about £300,000.
Unlike the previous two equity crowdfunding rounds which gave away shares in the business in return for funding, the latest pitch is a convertible campaign. Cash pledged by investors will convert into equity at a later date at a discount to other new investors in the next fundraising round.
It is used by businesses which have plans for a large fundraising round in the future but want to raise a smaller amount beforehand.
"All options are on the table for raising money, from angel or VC investors to selling a stake to private equity or trade," Harry Thuillier said.
"The reason for doing a convertible round is we don't need to put a valuation on the business now which could affect that negotiation in the future."
Oppo was valued at about £3m following the second crowdfunding round in February this year.
Thuillier added the brand would likely do one final large crowdfunding round next year, as the business looks set to make its first-ever profit on the back of revenues exceeding £1m, to fuel growth.
Oppo, which makes sugar-free ice cream using milk, coconut oil and stevia, is set to launch a fourth flavour – Colombian chocolate with hazelnut – in April. It is also in the process of expanding its supermarket listings and working on a pipeline of NPD outside of ice cream, as well as exploring exports.
The business, which is backed by Gü Puds MD Mark Escolme in a non-executive role, broke records for food and drink companies using equity crowdfunding when it raised £100,000 within minutes of launching its first fundraising attempt in early 2015, making it the most oversubscribed Seedrs campaign at the time.
Oppo is part of a growing wave of start-up ice cream brands - as well as the big players - attempting to attract consumers looking for ways to cut down on sugar or dairy. The brand, which has 60% less calories per 100ml than regular ice cream, is the first dairy ice cream in Europe that can legally be called healthy, according to Charlie Thuillier.