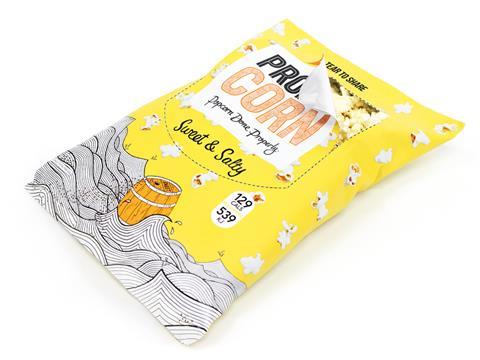 Fast-growing UK popcorn brand Propercorn has confirmed it has received a £7m investment from private equity player Piper and JamJar, the investment vehicle for the three Innocent founders, following The Grocer's story outlining the deal earlier this month.
The £7m investment is the first major injection of funds in Propercorn's five years of business and will underpin the brand's UK and international growth ambitions.
Propercorn was founded in 2011 and has gone on to sell more than three million bags of its popcorn per month as consumers continue to seek healthier and more interesting snacks.
Sales of Propercorn's gluten-free popcorn are forecast to rise from £10m in 2015 to over £15m this year and strong demand is being experienced across all 10 countries where Propercorn is currently sold overseas, particularly in Germany, the Netherlands and Ireland.
The business employs 40 staff at its London office. As part of the deal, Adam Balon, co-founder of JamJar and Innocent, will join Propercorn as chairman.
Cassandra Stavrou, co-founder of Propercorn, said: "I was very fortunate in getting some incredibly useful advice from Richard Reed, one of the innocent co-founders, in the very early days of Propercorn, and we've stayed in touch with the JamJar team ever since. They and Piper have consistently demonstrated they have the same passion and enthusiasm for Propercorn as we do, and are equally focused on making it the number one global snack brand.
"With their combined knowledge, expertise and network, both [fellow co-founder] Ryan [Kohn] and I are confident we have the best investors to help us realise our ambitions."
Libby Gibson, of Piper, said: "Propercorn is a fantastic brand, delivering innovative new products and flavours that meet a growing market need for healthier and more interesting snacking options, led by an outstandingly passionate, creative and commercial team. We are delighted to be partnering with JamJar for the first time in backing Propercorn. We believe our combined resources will provide the brand with a unique source of expertise and experience for its next stage of growth."
Adam Balon, of JamJar, added: 'In only a few short years, Cassandra and Ryan have crafted Propercorn into a wonderful business with a talented team, cohesive culture and a standout brand. With this superb foundation they have created, Propercorn has so many opportunities for growth and I'm hugely excited to be a part of this next chapter."