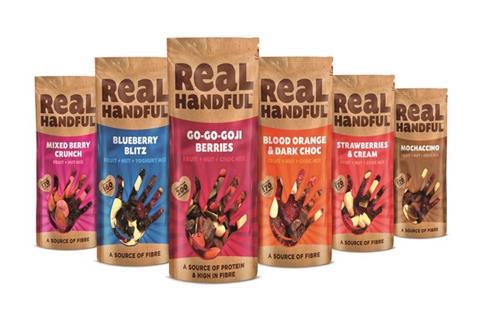 Snack maker Real Handful has secured £80,000 in equity funding through a business angels network to support its growth plans.
Husband-and-wife team Joe and Carly Taylor founded the Manchester business, which manufacturers a range of trail mix snack products, in May, with listings in Holland and Barrett and Ocado following.
The Greater Manchester Business Growth Hub advised the pair on an investment summary and pitch to the Northwest Business Angels (NWBA) network, which matches growing companies seeking finance with private investors.
Real Handful entered negotiations with a business angel following a pitch at an NWBA investor event late last year, securing the investment in February.
The funding is being used to for a standout display case to be used within retail and foodservice, with the rest of the money to support rolling sampling and customer activation campaigns across the spring and autumn, including a Runner's World trail running event.
"Securing this level of investment has enabled us to hit the market with a standout product and packaging," Real Handful co-founder Joe Taylor said.
"However, most importantly it gives us the time and funds to nurture and support the brand in the right way and build a team to drive the business forward. We're incredibly pleased with the initial reaction, having secured listings in major retailers within the first few months of launch, with more stockists in the pipeline."