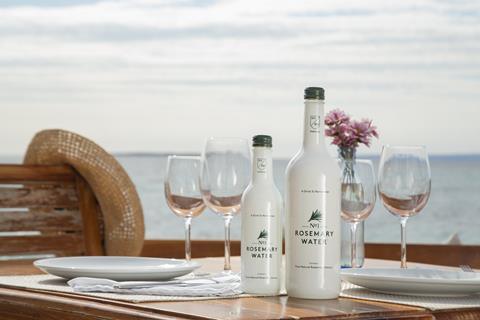 Botanical drinks start-up No.1 Rosemary Water has raised a £1m from new investors to take its 2019 fundraising to over £5m as it seeks to grow exports and tap into the world of mixer sodas.
The beverage company was able to hit the entirity of its initial crowdfunding target in a private round from 175 investors prior to launching a public funding campaign on Crowdcube.
With 21 days left, a further 166 backers have so far taken a stake in the company, which manufactures 10 single extract herbal drinks.
No.1 is willing to overfund only up to £2m, founder David Spencer-Percival said, to avoid diluting the equity and because "we don't really need the cash".
The latest funding push is a "top-up" of a £4m fundraise with existing investors completed three months ago, with the two-year old brand now valued at around £25.4m.
"I like the idea of crowdfunding for consumer goods because what you end up getting is a lot of people who become almost like ambassadors of the brand," Spencer-Percival told The Grocer. "The scale of crowdfunding with the amount of people that join your brand is really clever, is a really good way to raise funds."
No.1 is planning to use half of the amount raised for boosting exports, with focus mainly on the US where the brand is getting "a lot of traction" and Spanish markets.
Spencer-Percival added: "I think the UK is quite tough in retail and grocery and people aren't taking huge risks with new drinks and concepts whereas in the US people are really connecting with the brand. So, for us America is a big area of expansion."
Other markets targeted include Europe and Asia, with the brand receiving interest from Japan, Korea, Singapore and Australia.
"It is good to have options around the world rather than being over-exposed to the UK. The UK high street is tough, but in Europe people are starting to take more risks," Spencer-Percival said.
"It is just a case of finding where there is a bit more wind behind our sails as opposed to trying to face headwinds – which the UK definitely is."
Currently, No.1 waters are exported to the US, Spain, France, Sweden, Switzerland, Estonia and Romania.
New product launches, such as a soda mixer range, are also being targeted as the company seeks to exploit the growing trends in the industry – including the rise of gin & tonic sales.
No.1 is currently planning a soft launch for its mixers while working with bars in London to perfect recipes.
A canned ginger water and hemp water will also be released in September.
The current range of 10 herbal waters is sold in over 1,650 outlets across the UK and US, including Marks & Spencer, Waitrose Wholefoods and Selfridges. The rosemary and mint waters have also launched in 100 Sainsubury's this week.
In 2018 the company generated sales of £375k, a 400% increase on the prior year. For 2019, No.1 expects revenues of £1.3m, jumping to £4.4m in 2020 "predominantly generated by exports".
Losses amounted to roughly £2.5m in 2018 with the continued focus on product development and expansion impacting profitability.
"I don't think we are planning on making money for quite a while and that is the right thing to do," Spencer-Percival said.
"We need to invest and build a brand globally, so I am comfortable with the concept of not looking at profits but instead trying to drive revenue and brand."