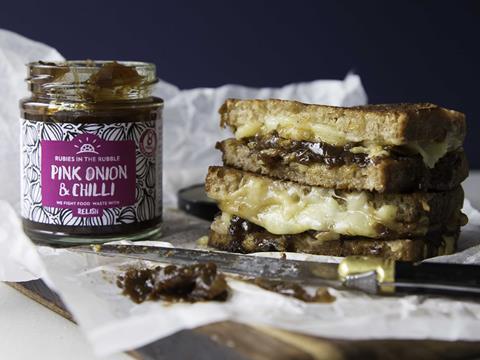 Food waste sauce maker Rubies in the Rubble has surged past its £300k crowdfunding target as part of a wider seven-figure investment hunt.
The table sauce brand, which uses rejected fruit & veg that would otherwise go to waste, has raised more than £500k on Seedrs for about 9.5% of the company.
Rubies in the Rubble, which valued itself at £4.8m, is currently overfunding on Seedrs and is also in discussion with other investors as part of an overall funding push worth £1.2m.
It received an investment of £160k from investor Mustard Seed as part of its crowdfunding effort and will close its wider fundraising drive in the coming weeks.
The brand, which is listed in Sainsbury's, Waitrose and Ocado, will use the funds to grow its presence in the mainstream condiments market and grow national retail listings.
Founder & CEO Jenny Costa said: "Rubies In The Rubble began life eight years ago as a stall in New Covent Garden Market. We've come a long way since then, and so has the public's attitude towards sustainable and purpose-led brands."
"We see the success of the crowdfunding campaign as evidence that consumers want to support purpose-led companies more than ever, and we're excited to see the response to our brand play out as we increase distribution on a national scale."
She added the funding would help it accelerate the growth of its sales team and facilitate expansion into new product formats.