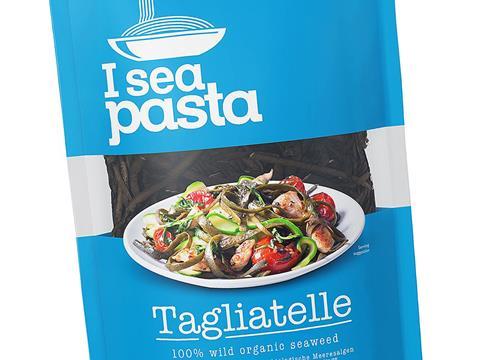 Seaweed start up Seamore has launched a new crowdfunding campaign seeking to raise £220k to develop more seaweed products to add to its range.
Convertible bonds for a minimum of €250 up to a maximum of €500 with an interest rate return of 6% can be bought by participants on the Symbid platform, and so far just under £113k has been pooled together, with 23 days still left to invest.
Seamore is inviting potential stakeholders to invest in healthy new products, with seaweed turned into a sustainable everyday food.
Up to now I Sea Bacon, I Sea Pasta and I Sea Wraps are on the market, and have been sold in seven countries, using 750,000 servings of seaweed over the past two and a half years.
The number of customers has grown rapidly from 10,000 to a loyal base of 100,000, who would be interested in seeing what more Seamore has to offer.
The group's pioneering products have won eight international awards for taste, innovation, sustainability, packaging design.
The target market is the lifestyle consumer, such as vegans or consumers who have a preference for gluten free products.
In the next few years Seamore said that experts have forecast the seaweed market to expand to $21bn, while some predict the total market value to reach $45bn in the next 10 years.
Its hopes to entice investors with its low sourcing cost of seaweed due to Seamore's scale and partnerships, plus efficient processing technology.
Also that its products are the first seaweed based goods that have hit the supermarkets, and so face no immediate competition, outside of future products which incorporate seaweed, or established companies which bring seaweed onto the market as a health accessory.
The company's sales strategy will be to work with distributors and wholesalers to reach the retail consumer, and to connect with retailers directly.
An experienced sales person would also be hired with the crowdfunding revenue to liaise with high street retailers to increase the number of stores who buy Seamore products, and to organise trade fairs to attract more distributors and retailers
The capital raised would also be invested in promotions, to boost sales with in-store marketing materials.
Seamore will also try to reach potential consumers through the social media, with collaborations set to be out into place with food boxes and other 'trial' channels, food bloggers, large scale food events and in-store marketing.
Currently its products make a 50% gross margin on each item, a considerable margin to catch the investors' eye. The revenue model includes selling business to business via wholesalers that service restaurants and other businesses.
Revenues has grown from €2.5k to €40k per month, and has raised €800k and a further €600k in bank financing and loan agreements.
Yet Seamore made a net loss for last year of €497k up to the end of last year.
Turnover reached just under €202k, but was outweighed by the €114k cost of sales, operational costs of €357k.