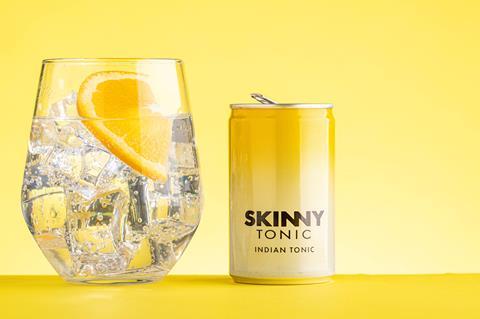 Zero-sugar tonic brand Skinny Tonic has smashed its crowdfunding campaign target to raise over £1.4m as it prepares for its second "major" listing.
Skinny Tonic was originally looking to raise £500k on Seedrs in exchange for an 8% stake – valuing the business at £5.7m.
After overfunding by 189%, with 525 shareholders investing in the brand, the equity offered has been raised to 20%.
Furthermore, the company raised around £265k from July to September last year.
"We have had some fantastic responses with investors as far afield as the US," said founder Ian Minton. "It has been very rewarding to see people believing in what we are doing and what we plan to do next."
Skinny Tonic's four-strong range, including the classic Indian tonic, Elderflower and Light Citrus, is zero-calorie, zero-sugar and is sweetened with stevia.
It is currently listed nationwide in Asda as well as being available on Amazon, 31Dover and DTC, as a one-off purchase or subscription, on its website.
The brand will use the cash raised to support an upcoming launch with another "major" national retailer, set to take place early in the second quarter of this year.
Further funding will go towards recruiting a sales and marketing team, increasing production capacity and NPD, "ensuring that we remain ahead of the competition in taste tests, design and innovation".
A new lineup, including a clear-coffee tonic flavour, is due to roll out shortly while the brand's cans will undergo a makeover to provide a matte finish and a "much more premium look and feel".
Expansion overseas is also being targeted with discussions ongoing in the UAE, west coast of the US and Spain.
On-trade, Skinny Tonic is preparing a launch into Fulham Shore-owned restaurants The Real Greek and Franco Manca after welcoming MD Nabil Mankarious as both an investor and advisory member to its board.
From April to December 2019, the company turned over £505k. By 2024, it expects sales of £10.4m and net profits of £1.7m.
In terms of a future exit for the business, Minton said the current focus was to "build sales and prepare the business for any type of exit".
"We have to focus on making sure that everything is ready if we get approached for a trade sale or decide to go for an IPO," he added.
"But the most important thing right now is executing the plan, getting further listings and making enough noise where someone will want to look a little bit closer to us."