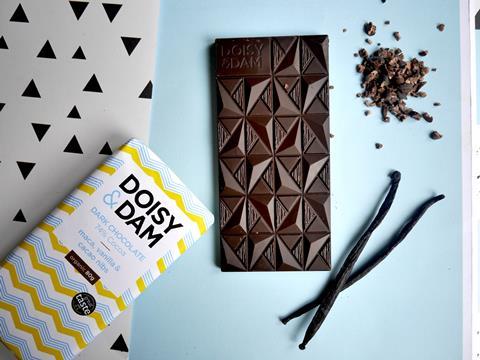 Sustainable chocolate startup Doisy & Dam has secured a £750k cash injection from angel investors to underpin its rapid growth plans.

Doisy & Dam was launched by Ed Smith and Richard Wilkinson in 2013 in a bid to produce indulgent, sustainable chocolate, with bars that can be "traced back to the trees they come from in Colombia".
A number of private investors from the food and drink industry, such as former Innocent and Piper employee Emma Jackson, have backed the premium confectioner.

The brand, which sells bars as well as sharing 'snaps' made from dark chocolate and puffed rice, will use the funding to drive further NPD and PoS marketing.

The cash boost has also been used to expand the supplier's team, driving the recruitment of three new staff members to meet growing operational demands.
Doisy & Dam is currently available in retailers including Sainsbury's, Ocado and Whole Foods Market, and is set to expand into another major retailer in coming months.
It previously raised £300k from investors in 2016, in an overfunded crowdfunding campaign.
In the last financial year, sales rose 85% and are expected to grow at a similar rate in the current year, the founders said.
"The funding will largely be used for trade marketing and new product development. The NPD will see range extension and new formats, which we are planning to release later in the year," commented Wilkinson.
"The marketing funding is just so we can grow our rate of sale. We don't want to conquer every supermarket straight away but want to consolidate everything and build that brand loyalty.
"We think there's a massive opportunity for growth for a new brand to come in and modernise confectionery. There's a lot out there which has not changed for decades, and we are coming as a brand looking to be premium, innovative and move on from what already exists."
It is the latest premium chocolate brand to attract investment interest, following Illy Group's acquisition of Prestat earlier this month and the majority acquisition of Montezuma's by PE firm Inverleith LLP in November 2018.