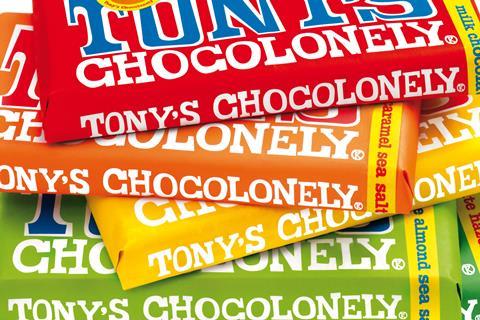 Ethical chocolate brand Tony's Chocolonely has secured an investment of €36m (£30.2m) to speed up its mission of achieving a 100% slavery-free chocolate industry.
The funding comes from Verlinvest and JamJar, which together have taken a minority share of 28% in Tony's, the Dutch grocery sensation that made its UK debut last year.
Verlinvest is the investment vehicle of Belgium's de Spoelberch family. It has a track record of investing in sustainable consumer brands, with interest in the likes of Swedish plant-based disruptor Oatly. JamJar is the venture capital fund of Innocent founders Richard Reed, Adam Balon and Jon Wright. It has invested in fmcg brands including Bol, Farmdrop, Tails.com and Proper (previously Propercorn).
Ben Black of Verlinvest and Adam Balon will join Tony's supervisory board. However, 51% of the voting power remains in the hands of the confectioner's chief chocolate officer, Henk Jan Beltman.
Verlinvest and JamJar's investment would allow Tony's to "accelerate in achieving our goal of making all chocolate worldwide 100% slave-free" said Beltman.
"To accomplish this, it is important that we can continue to grow internationally so that more and more people – consumers, retailers, governments, big chocolate companies and farmers alike – can be involved in our mission."
In addition to growing the brand internationally, the €36m will also be used to develop Tony's Chocolate Circus in Zaandam, the Netherlands – a chocolate factory that will double as a visitors' centre. The brand expects 500,000 visitors each year.
Tony's had "enormous potential to become everyone's favourite chocolate brand worldwide" said Black. "We believe it is important to support its mission and to invest in a company that, thanks to their innovative business model, contributes to fundamental change in the chocolate industry."
Balon said Beltman "had created a fantastic brand and has set a new standard for the chocolate industry. I look forward to creating a truly global impact brand with him."
Tony's was founded 15 years ago by Dutch journalist Teun van de Keuken with the aim of abolishing modern slavery in the cocoa industry. Now the biggest chocolate brand in the Netherlands, with a global turnover of around £55m, it works directly with cocoa farmers in Ghana and Ivory Coast, paying them a higher price than other chocolate makers.
January 2019 saw Tony's land in the UK, where it is listed by retailers including Sainsbury's, Ocado and Selfridges.