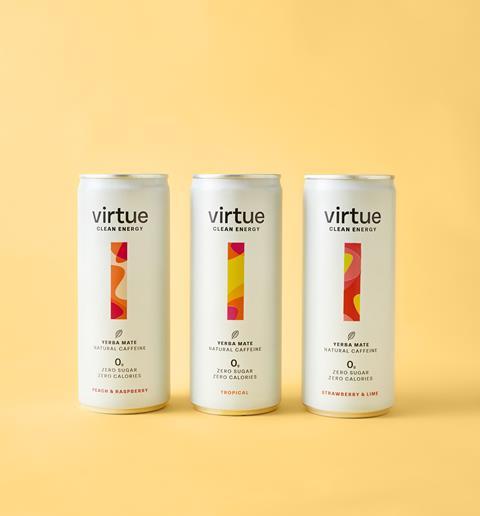 Natural energy drinks brand Virtue Drinks has raised £1.2m to underpin a major brand refresh and accelerate global growth.
The brand has closed the seven-figure funding round, receiving backing from a number of new and existing investors primarily drawn from family offices and angel investors.
The funding will help to accelerate the business growth, financing further hires in sales and marketing, alongside investing in retail distribution in the UK and internationally, and driving key marketing activity to increase brand awareness.
The funding is in addition to a previous £1.1m round secured in 2021 and an earlier six-figure investment from Roma and England international footballer Chris Smalling.
The new funding coincides with a brand refresh that includes a "stripped back aesthetic" and an upgraded recipe that sees the full range include yerba mate.
The brand said its expanded use of South American yerba mate has enabled it to "create a more sustained and all-natural energy alternative to coffee and energy drinks".
Virtue said its distribution has grown 225% in the UK over the last year with new stockists including Waitrose, Asda, Tesco and Motor Fuel Group.
Meanwhile international sales has grown by well over 400% over its last 12 months, with the brand now sold in 35 countries via 15,000 distribution points globally, including listings with major international chains Casino, Carrefour and Aeon.
"We are very excited for this next stage of growth as we build the market leading clean energy drinks brand," said founder Rahi Daneshmand. "Virtue is the first all-natural, zero-sugar and zero-calorie energy drink in the UK and we plan to make our drinks accessible to even more people."
Its expansion into Waitrose has seen brand roll out across the supermarket nationwide in recent weeks, where it will be included in the stores' meal deal.
Matthew Blake, Waitrose Soft Drinks Buyer, added: "We're really excited to have the Virtue Yerba Mate drinks onboard as part of our offering. The range is perfect for active adults looking for drinks with functional benefits and comes packed with natural caffeine, contains nothing artificial as well as being zero sugar or calories… not to mention being incredibly tasty!"