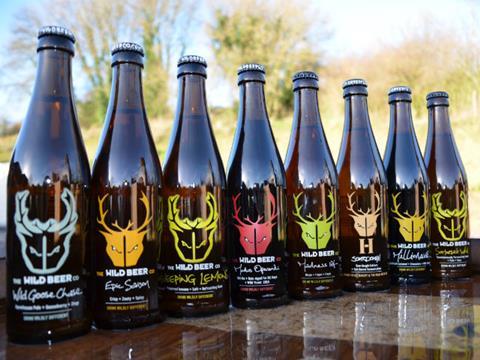 The Wild Beer Company is the latest craft brewer to turn to the crowd to raise cash as it kicks off a £1.5m funding drive later this week.
The Somerset-based business will use the money from the campaign on Crowdcube to build a new brewery and the transformation of its current home to a barrel-ageing specialist site.
The new brewery will have the capacity to brew more than 12 million litres a year, with plans to include a taproom, restaurant, private dining and corporate hosting facilities and gardens growing fruit and veg for the beers and kitchen.
Crowdfunding is becoming an ever-more popular way for brewers to secure investment for expansion plans, with BrewDog leading the way, raising more than £26m from more than 50,000 investors since 2009. The 'maverick' brewer raised £10m at the end of 2016 on Crowdcube – a record amount on a UK crowdfunding platform.
Camden Town Brewery raised £2.2m from 2,076 investors in 2015 before being bought out by Budweiser and Stella owner AB InBev. And Scottish brewer Innis & Gunn hit its £1m target in three days in November 2016, going on to raise £2.5m to accelerate the rollout of its Beer Kitchens bar and restaurant concept in England and North America.
Wild Beer was founded in 2013 by beer industry professionals Andrew Cooper and Brett Ellis. Its beers are fermented by wild yeasts and are available in independent beer shops across the country, as well as in pubs and its two own restaurant bars in Cheltenham and Bristol.
The range is also stocked by M&S, Wholefoods, Oddbins and Booths – and is exported to 22 countries.
"The brewery was started with a passion for the flavours of barrel-aged wild and sour beers," co-founder Brett Ellis said. "Our base in Somerset was the perfect backdrop that provided the inspiration and ingredients to begin that dream."
The Crowdcube campaign goes live on Wednesday (1 March), with about 35% of its £1.5m target already raised.
The new brewery will be based on the Bath & West Showground, which has an annual visitor footfall of almost one million. Wild Beer employs 60 staff in the current brewery and bars.