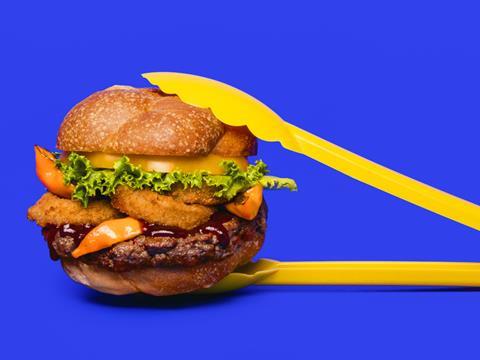 Plant-based pioneer Impossible Foods is eyeing a move into alternatives to fish, chicken, pork and eggs following the success of its Impossible Burger in the US.

The brand has attracted millions of dollars of investment since launching in 2016, and seen sales of its soy and potato protein burger soar in the US during the past year, after securing listings in major restaurant chains such as White Castle.

It said it had identified fish as its next priority in response to dwindling fish populations across the globe, and was developing recipes at its California headquarters based on the same technology used in the Impossible Burger.

Speaking at a press event in London this week, creative director Sasha Markova added the brand was also developing alternatives to chicken, pork and eggs, and had already patented technology to create a chicken alternative using a plant-based version of the haem molecular compound which created the Impossible Burger's "meaty" taste.
Markova added that some 50% of consumers surveyed by the company in blind taste tests mistook the Impossible Burger for meat, adding the company had now set its sights on increasing that figure to 80% by the end of the year by improving its recipe further. However, she was tight-lipped on a potential UK launch.

"For the moment, we're focusing our efforts in the US," Markova told The Grocer. "We currently just have the one factory in Oakland, California although we are also looking to expand," she added, pointing out the brand had recently opened a facility in Hong Kong.

Reiterating the words of Impossible Foods CEO Patrick Brown who set out his ambition for the global food chain to be entirely animal-free by 2035, Markova said: "We've encountered some resistance, but the meat industry can see the tide is turning, with giants like Tyson investing in alternative proteins. We don't want to put farmers out of business, we still need places to grow and process ingredients for plant-based meats.

"We consider our products to be meat. If a cow can create a burger from grass, why couldn't we cut out the cow as an inefficient middle man?"

The French government has this week decided to ban the use of meat-related words such as 'steak', 'fillet' and 'sausages' to describe plant-based alternatives on the grounds they could mislead consumers.