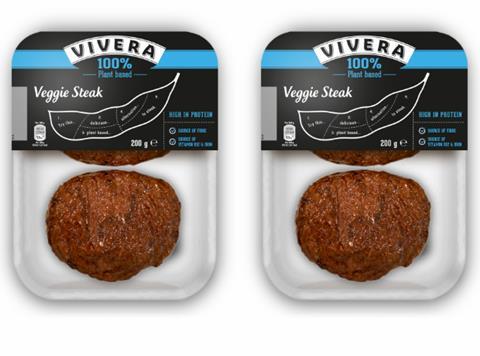 Dutch meat alternative brand Vivera will launch what it is describing as the world's first 100% plant-based steak into Tesco stores next week.

The steak contains a combination of wheat and soy and was described as a "major breakthrough" in plant-based meat alternatives by Vivera. It will roll out exclusively into 400 Tesco stores on 21 May.

Sold in the fresh aisle, it replicated the "bite, structure and juiciness" of a beef steak, claimed Vivera commercial manager Gert Jan Gombert, and was unlike any other product on the market.
Vivera, which already sells a range of meat alternative products in Sainsbury's, Ocado and Waitrose, was launching the steak in the UK before it had even gone on sale in the Netherlands, said Gombert.

It had been attracted to Tesco due to its growing interest in plant-based meat alternatives, he added, with the retailer recently listing Swedish plant-based brand Oumph, and the 20-strong Wicked Kitchen range developed by plant-based pioneer Derek Sarno.

It comes as Tesco also prepares to launch US plant-based hit Beyond Meat, with industry sources indicating the retailer will unveil the Beyond Burger before the end of July as part of a global expansion by the brand.

Vivera had already started production of the steak, Gombert said, and expected to manufacture "several million pieces" this year.

"With the breakthrough of its market introduction and large-scale production, a large group of consumers can enjoy this very tasty plant-based product," he added.

"The smell, taste and bite can hardly be distinguished from real steak and we are convinced that this product will meet a large need among consumers. It is very important that we eat less meat, both for our own health, animal welfare and for our planet. Innovative and high-quality plant-based products can make a significant contribution here."