The future of DRS in the UK is looking bleak – but similar schemes continue to deliver great results abroad. What is the UK getting wrong?
The British led the way when it came to pioneering deposit return schemes – decades before the war on plastic became a global crisis. Sadly for those witnessing the chaos surrounding our recycling strategy, the territory in question is British Columbia.
DRS, the acronym that has become synonymous with controversy on our shores, has gone on to operate successfully in 11 of Canada's 13 provinces, since that first adopter way back in the 1970s.
It's also big in Australia, operates well in many states across the US, and has been in Europe since Sweden became the first of 13 countries on the Continent to adopt it – with a further 16 poised to follow suit.
Yet in post-Brexit Britain, DRS has faltered, with plans for Scotland to launch the first scheme now shelved until at least October 2025, in line with the rest of the UK – a deadline itself looking more unrealistic by the day.
So why is DRS in such a mess? And is there anything we can learn from the countries in which it operates, and most of which operate successfully?
Scotland, once hailed as the UK's DRS pioneer, has turned out to be more of an example of how not to get things done. Its scheme fell victim to mismanagement, political pigheadedness (from both Holyrood and Westminster), and a veritable vipers' nest of vested interests, with Circularity Scotland Limited (CSL), the industry-run company set up to run the scheme, collapsing in June with companies refusing to pump in more cash, leaving huge debts of £90m.
Now, as Defra faces the invidious task of trying to create a similar administrator for a UK system, DRS is in a battle for survival. Bosses of companies including Coca-Cola, PepsiCo and AG Barr anxiously wrote to Rishi Sunak a week ago, seeking reassurances it won't be next on his chopping block, while supermarkets, who would host much of the all-important reverse vending machine (RVM) infrastructure, are calling for the government to go back to the drawing board amid concerns it will drive up prices.
Sweden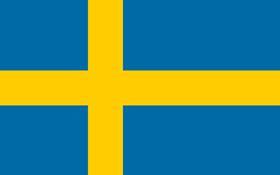 Set up in 1984, the Swedish DRS, Pantamera, is run by Returnpack, a company owned by the country's retailers and drinks producers.
Using GS1 standards, the scheme covers both aluminium cans and plastic PET bottles (added in 1994) with glass excluded. DRS has led to recycling rates in the country of up to 84% for PET bottles and 81% for cans in 2017.
Defra is desperately looking at Europe, and Scandinavia in particular, hoping the success of many countries operating DRS will have some "gravitational pull", as one source puts it.
In June this year, environmental minister Rebecca Pow visited Sweden and appeared wowed by the success and ease-of-use of its return to retail system. She even posted social media videos in which she was using the Swedes' latest RVMs, which can take single or multiple loads of PET bottles and cans within seconds.
Returnpack, Sweden's version of CSL, which like its ill-fated Scottish equivalent is co-owned by Swedish retailers and drinks producers – includes a return to retail model for can and plastic PET bottles. Unlike the plans for Scotland, it does not include glass. Since it was launched it has achieved recycling rates of around 85% and above.
This compares to the latest figures from Defra, which show in 2021 just 44.4% of plastic waste generated in the UK was recycled, a figure almost identical to the kerbside collection rates in Sweden.
"DRS is one of the most successful policies to reduce littering and drive up recycling rates"

Steve Hynd, City to Sea media and policy manager
And Sweden isn't necessarily the standout performer. Germany, in its two-decades-old DRS scheme, today collects 98% of containers. Norway, seen by some as the model the UK has most to learn from, also has rates of over 90%. Croatia, Denmark, Finland and Lithuania's DRS schemes have also achieved rates of 90% or more.
Indeed, buoyed by the success of so many of the schemes, the EU is planning to make DRS mandatory by 2029. Next up is Austria, which has just finalised the regulations needed ahead of its launch in January, which, according to its trade association surveys is supported by nearly 70% of the public.
The Republic of Ireland is also gearing up for launch with a scheme, again excluding glass, due to begin on 24 February next year.
That scheme, to be operated by Deposit Return Scheme Ireland CLG, trading as Re-turn, is typical of how DRS systems operate in other ways too. Producers of in-scope products will pay a 'producer fee' intended to cover the costs of collecting and recycling, data gathering and reporting, and business and consumer awareness outreach, as well as Re-turn's administration costs.
Germany
Europe's largest and most technologically advanced DRS system was introduced in 2002, encompassing PET plastic bottles and steel/aluminium cans, as well as glass bottles and paper/cardboard cartons.
Consumers pay a deposit of €0.25 for each container and can return materials to one of around 135,000 return points distributed around the country, 80% of which are automated.
The scheme has achieved return rates of 98%, with every shop required to take bottles back. Germany has strict regulations but also strong involvement from producers and retailers, although some regard the system as too complicated to work in the UK.
Retailers will also pay a 'deposit fee' to producers when they purchase in-scope products.
Likewise, when a consumer purchases an in-scope product, they will be charged the 'deposit fee' in addition to the price of the product.
The system will use a combination of RVMs and over the counter, or manual, collection, with exceptions for retailers with a footprint/layout of less than 250 sq m, food to go operators, hospitality and online retailers.
"The success of DRS overseas is because they have clear, concise, and consistent rules"

Dr John Lee, Tomra VP of public affairs UK&I
Yet pretty much all of these elements also existed in Scotland by the time it collapsed and every one ended up being subject to prolonged rows and even, in the case of retailer fees, a Juridical review which eventually ruled the scheme had broken the law. By then the embattled CSL had collapsed, making the legal proceedings somewhat irrelevant, except as yet another bad omen for Westminster as to what could be round the corner.
Dr John Lee, VP of public affairs UK&I at reverse vending machine giant Tomra, and previous media boss at the Scottish Grocers Federation, has seen the UK's DRS rows from both sides. He says that, so far at least, the preparations in Ireland have lacked any of the high-profile political bust-ups and fallouts between sectors seen north of the border.
"The Irish government has seemed very committed and there has been no indication of delay," he says.
Finland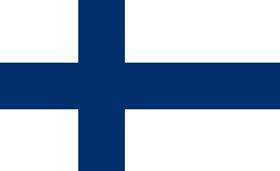 Finland's impressive system started in the 1950s, and today almost every bottle and can is recycled.
More than two billion bottles and cans were returned in 2020 – 93% of the total amount purchased. Aluminium cans, glass bottles or bottles made from PET plastic require a deposit of 15 to 40 cents. There are almost 5,000 automated container return machines across Finland, most located in c-stores but also hotels, restaurants, offices and schools.
Simple and consistent
In 2019, a report by environmental experts Anthesis concluded that if the UK could take one lesson from Sweden's success, it was "that governments and regulators should set clear goals and leave industry to find the best and most efficient ways to achieve them".
Like Anthesis, Tomra's Lee says the main takeaway for the UK must be to keep DRS as "simple and consistent as possible".
"The success of DRS overseas is because they have clear, concise, and consistent rules throughout the country when it comes to depositing items," he says.
"Over-complicating it, introducing variations across the Home Nations and delaying it further will only have a negative impact."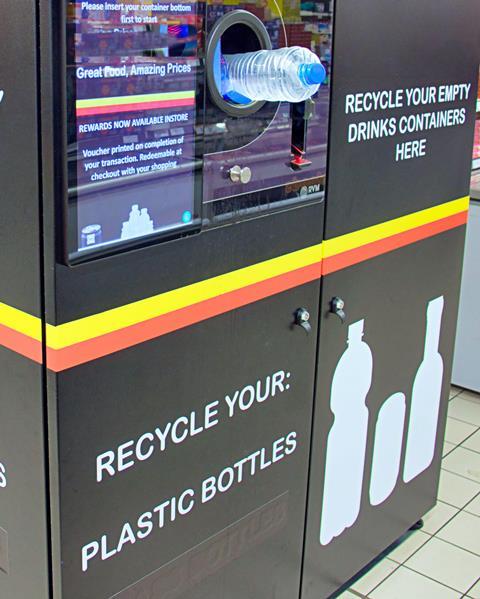 Gavin Partington, director general of the BSDA, warns that without more political support for DRS, the UK risks becoming the poor man of Europe when it comes to recycling, with a knock-on impact on the availability of recyclate – a major issue affecting the use of recycled plastic.
"It's clear that if the UK government doesn't accelerate the introduction of their scheme, we risk lagging behind EU member states," he says. "This could potentially mean the only source of high-quality, fully recycled materials will be outside the UK."
Yet Partington insists the wealth of experience the industry has garnered in developing and operating DRS schemes globally means Defra is far from rudderless – if only it listens to its advice.
"The success rests now upon alignment and interoperability across England, Wales, Northern Ireland, and Scotland," he says.

Norway
With a system largely left in the hands of the industry itself, the Norwegians use tax reductions to incentivise uptake from companies.
Norway's privately-run DRS has been in place since 2002 with the deposit paid by consumers varying depending on the material (from 17p-26p) with plastic, glass and aluminium all included.
Any retailer eligible to sell drinks acts as a collection point, either manually or using RVMs, and additional collection points are run by schools and charities as a source of extra revenue.
David Llewellyn, CEO of the Vending & Automated Retail Association, adds: "There is no reason why a UK-wide scheme wouldn't work.
"However, we do know that for such a scheme to be successful here, there cannot be any variations within the home countries of the UK, and no inconsistencies regarding the material type suitable for a DRS."
Sadly the battle over whether Scotland and Wales, which also intends to include glass in its system, will be allowed to break with England's decision not to include the material is just one row waiting to rematerialise.
In Scotland the move became massively politicised, with the UK government turning down Holyrood's request for an exemption under internal markets rules.
Ministers in Wales reportedly believe they can include glass without such a request – which remains to be seen.
"The issue of glass is very much a big future stumbling block," admits one source. "Yet there is actually a lot of joint working going on behind the scenes involving the devolved governments. There is momentum behind a joint approach, but as for glass, the issue is basically being ignored in the hope it will go away."
If that sounds true to form for Defra, industry sources also express alarm at suggestions made by ministers that the rest of the UK may not follow Scotland's proposals for a 20p deposit, with the figures described as a "good starting point". With suggestions it could be higher or lower, and end up being set not by government but by an industry-run scheme administrator, it looks set to be a further source of great debate.
Lithuania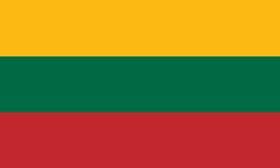 Run by non-profit Užstato Sistemos Administratorius, Lithuania's DRS launched in 2016 and has already achieved a 93% collection rate, up from only 34%(for PET) prior to the scheme's introduction.
Covering PET plastic bottles, steel/aluminium cans and glass bottles, the scheme charges a deposit of €0.10. Consumers can then return their containers to retail collection points where deposits are returned as store vouchers.
Any stores larger than 300m2 or those in rural areas are obligated to participate. For others, participation is optional.
The latest blow to the UK's scheme came last month when supermarket bosses appeared to deliver a potential death blow to DRS, warning Prime Minister Sunak the system could cost almost £2bn a year to run – which they warned would inevitably rebound in the form of higher prices on the shelves.
Steve Hynd, media and policy manager at campaign group City to Sea, says it is imperative both politicians and different industry factions overcome their differences.
"All around the world deposit return schemes have been shown to be one of, if not the most successful policy to reduce littering and drive up recycling rates," he says. "In countries that have functioning deposit return schemes, recycling rates top out above 90% and, crucially, we can often see good reuse rates as well."
Sunak's intervention has thrown the spotlight back on the future of DRS, but with the general election looming and Keir Starmer hot favourite to win, the opposition's views will be just as crucial.
Earlier this month shadow climate change secretary Kerry McCarthy, a strong supporter of DRS, questioned Pow in parliament over delays to the regulations underpinning the rollout, suggesting Labour might be less likely to pull the rug.
Yet Pow, fresh from seeing how it's done in Sweden, insists the government is on course to have the legislation underpinning DRS in place by next summer. Then, perhaps, it will finally be in a position to appoint a scheme administrator ready to take on the daunting task of making the UK's deposit return scheme, or schemes, a success.
Years of disharmony, rows and standoffs
February 2017: Coca-Cola reverses opposition to DRS, having been the subject of a Greenpeace investigation into its opposition, a move seen as a game-changer for support for DRS.
April 2022: The UK government u-turns on plans to include glass in its DRS system, putting it at odds with the scheme in Scotland.
October 2022: C-store owner Abdul Majid raises judicial review proceedings against scheme administrator CSL, backed by the Scottish Grocers Federation, over DRS costs, subsequently winning the case.
February 2023: UK government reveals plans to block Scotland's DRS under internal market rules because of impact on inflation.
June 2023: CSL collapses after soft drinks bosses pull the plug on funding, with the body owing debts of £90m.
August 2023: Soft drinks bosses accuse supermarket bosses of exaggerating the costs of a UK-wide deposit return scheme in an attempt to torpedo the plans.
What the rest of the world can teach us about deposit return schemes
1

Currently reading

How to solve the deposit return scheme riddle

2