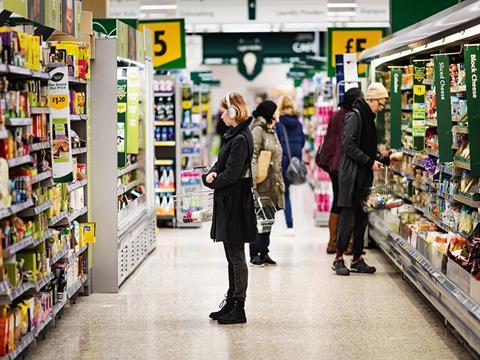 Supermarket prices are edging back into inflation - as the UN warns global food prices have risen for a fifth consecutive month.

The Grocer Price Index edged up 0.1% in May, following a 0.3% decline the previous month. It reflects another rise in the cost of some key commodities, with the UN FAO's Food Price Index - which monitors global food prices - up 1.2% in May due to the impacts of adverse weather and animal disease outbreaks.

The UK picture is one of modest inflation, however: according to the GPI, collated by Edge by Ascential from almost 65,000 individual supermarket SKUs, it's lower than the 0.4% recorded in March, and well below the 1.1% recorded in the same month in 2018 and the peak of the post-Brexit grocery inflation cycle of 2.7% in November 2017.

Indeed, prices have remained stable since last summer. Sainsbury's was the only supermarket to record annual price deflation last month as overall prices fell 0.3% year on year, which was the same reduction as April.

Sainsbury's overall deflation was heavily driven by household goods and baby goods, down 2.3% and 2.2% year on year respectively as the majority of its other categories were back in annual price growth.

Asda recorded the lowest annual inflation in five of the past six months, but prices on an annual basis in May were flat, with dry grocery prices moving back into inflation of 1.6% having been in deflation last month, while soft drinks (+1.9%) and health & beauty (+0.9%) were also back in inflation.

Tesco was back in annual inflation of 0.2%, which represented its second month of rising prices so far in 2019.

Morrisons remains in front in terms of annual price inflation, recording a year-on-year rise of 0.9% across its range, on top of the 0.8% price rise reported in April. Morrisons has now shown the highest level of annual inflation in every month since September 2018.

Waitrose, not included in the overall GPI figure, is yet to post a month of price deflation since November 2016 and remained in annual inflation of 0.3% in May.

Of the 14 categories included in the GPI, six saw lower prices year on year, led by household goods (-1.1%) baby goods (-0.4%) and dairy (-0.3%).

Inflation in the GPI's largest category of dry grocery climbed to its highest level since October 2018 as prices rose 0.4%. Meat, fish & poultry also posted its highest rate of annual inflation since June 2018 at 1.5%, while other notable rises included bakery (1.6%) and frozen (1.5%).

According to the FAO, global cereal prices rose 1.4% in May after US maize crops were destroyed by rain and flooding, while global meat prices have risen every month since the beginning of the year due to the African swine fever outbreak.