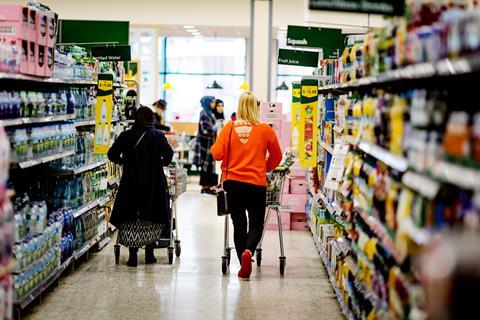 Supermarket prices have stayed flat year on year, but there are signs food price inflation could be creeping back into the market after close to a year of stagnant prices.

The Grocer Price Index, collated for The Grocer by Edge by Ascential from over 63,000 individual SKUs, showed annual price inflation of 0.1% in June - the same level as May.

This marks the 12th consecutive month inflation has been within 0.5 percentage points of zero after the post-Brexit vote inflation ebbed out of the market in the summer of 2017.

Despite the unchanged headline inflation measure, however, there are some signs prices are beginning to increase across the industry.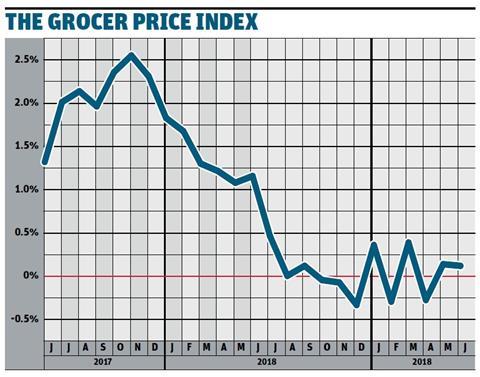 In June three of the four major supermarkets, as well as Waitrose, all recorded a rise in overall annual prices.

The headline GPI number was only suppressed by Asda's 0.5% year-on-year drop in prices - the eighth time in the past nine months the UK's price leader among the mults has recorded annual deflation.

Tesco inflation rose for the second consecutive month for the first time this year with inflation of 0.1%, while Sainsbury's posted its highest rate of inflation since August 2018 with prices up 0.2% year on year. Inflation at Morrisons dipped back to 0.2% from 0.9% in May, though the supermarket is yet to record a single month of deflation since April 2018.

Similarly Waitrose, not included in the overall GPI figure, has yet to record any month of deflation since 2016 as its prices were up 0.4% annually last month.

Grocery shelf prices are still being constrained by the highly competitive nature of the market, with supermarkets reluctant to pass on wider inflationary trends to consumers.

Sainsbury's CEO Mike Coupe said this week it had invested heavily in price in recent weeks, cutting 1,000 everyday grocery products. Despite the "tough trading environment" he said the supermarket had managed to improve its price position relative to the discounters in its most recent trading quarter.

Inflation is also creeping back in at a category level: just three of the GPI's 14 categories were in deflation last month compared with six categories in price decline the previous month.

The overall GPI inflation figure was dampened by a 1.2% drop in alcohol shelf prices, having been down just 0.1% in May. Other non-food categories including health & beauty (-0.2%) and household goods (-0.2%) were also in deflation.

However, key food categories such as ambient goods (+0.9%), meat, fish and poultry (+1.7%), bakery (+2.1%) and frozen (+2%) all experienced higher inflation in June than in May.

Meat, fish and poultry is currently experiencing its highest level of inflation since May 2018; and bakery prices are rising at their fastest rate since August 2018.

Last month also saw a move back into inflation for chilled (+0.6%), baby goods (+0.2%), fruit and vegetables (+0.2%) and dairy (+0.1%), all of which had been in deflation during May.

Elsewhere this week the BRC-Nielsen Shop Price Index found that overall shop prices had turned deflationary for the first time since October 2018, falling 0.1% in June compared with a 0.8% increase in May.

However, this headline deflation was entirely driven by a sharp decline in non-food prices as retailers maintained a high level and depth of price cuts to help drive footfall following dampened demand.

The BRC-Nielsen report found food inflation had remained steady during the month at 1.6%.