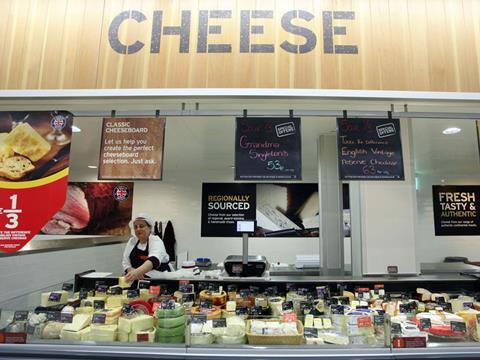 Supermarket prices have fallen back into deflation for the first time in over a year, just as the industry prepares for a potential price shock from the UK's exit from the EU.
The Grocer Price index for November, collated by Edge by Ascential from almost 62,000 SKUs, recorded price deflation of 0.8% last month after prices rose by 0.2% in October.
November's price drop is the first time supermarket prices have been in annual deflation since September last year and is the largest monthly deflationary level seen since December 2017.
The figures, which encompass the second lockdown period, represent a marked contrast to the effects of the first lockdown, when stockpiling and a sharp drop in promotions saw GPI inflation spike to 2% in April.
Siobhan Bentley, lead analyst at Retail Economics, suggested the battle for pre-Christmas spend and the return of promotions had kept a lid on grocery inflation.
"Competition has increased considerably this year, given the shift in spending to the online channel and store footfall remaining in negative territory as so we'd expect promotions to be one of the main tactics used," she said.
Of the big four supermarkets, only Tesco's prices remained in annual inflation at 0.7%.
Morrisons, which has instigated aggressive price cuts since the summer, had prices down 3.7% year on year, while Sainsbury's were down 0.5% and Asda's were flat.
Waitrose, not included in the overall GPI figure, recorded overall deflation of 0.1%.
Those categories in deflation in November included household (–1.8%), dairy (–1.2%) alcohol (–1.4%) and meat, fish & poultry (–0.9%).
However, some of these categories could be most at risk of an immediate spike in prices in January if the UK exits the EU without a trade deal and import tariffs are applied to a swathe of foods.
Tesco chairman John Allan this week forecast a no-deal Brexit could push the price of food bills up by an average of 5%, with certain products facing far larger price spikes. For example, he suggested that tariffs could increase the price of French cheese by as much as 40%.
Temporary shortages of some fresh foods from 1 January could also be possible, he said, which could have a similar inflationary impact to shortages caused by stockpiling earlier in the year.
Even if a deal is agreed it is widely thought extra costs related to processing imports through customers are likely to have an inflationary impact on foods within an international supply chain and could cause shopping bills to rise.
"Benign food inflation now will have little baring on price shocks in coming months if there is significant disruption around Brexit," Bentley said.
"Supermarkets work on tight margins and thus it's inevitable that any increased pressure on prices could be passed on to consumers."