They call them the midweek cheats: quick, tasty, convenient dishes oozing authenticity and health cues and, crucially, carrying hefty premiums over standard rice & noodle products. And sales are booming.

Brits have forked out an extra £9.4m on pouched rice in the past year, with growth of 5.4% on volumes up 8.3% [Kantar Worldpanel 52 w/e 24 April 2016], making it the only sector in any significant growth in the overall rice & noodles market, which has seen value dip 1.2% to £536m on volumes up 1.3%.

IRI provides further proof of how shoppers are paying more for shortcuts to authenticity: the average price of potted instant noodles has climbed 4.7% (value is flat; volumes down) as smaller, premium brands have gained share [52 w/e 21 May 2016].

So who are the midweek cheats? Given that average prices in the wider market are falling, to what extent are they helping protect retailers from the intensifying price war and deflation? And what of the wider market? What does the coming year have in store?

"Demand for microwaveable rice continues to grow. Defra statistics indicate the long-term trend of rising rice consumption has been maintained, although the rate of growth has slowed in the last couple of years," says Rice Association director Alexander Waugh.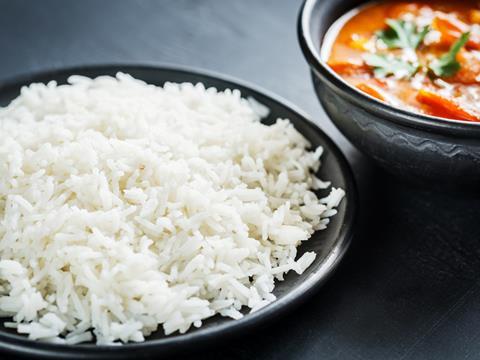 Rice & noodles have grown in volume but declined in value, driven mainly by lower average prices. The number of households buying has remained relatively static.
But pouch rice has had real success in value and volume terms and is one of the only sectors to have attracted more shoppers. With people leading ever busier lifestyles, they're looking for convenient and quick-to-cook products.
Pouch rice has grown in value thanks to the performance of own label, particularly in Sainsbury's and Tesco. Brands still account for 80% of pouch rice sales and have had positive growth.
The category overall has seen more temporary price reductions and fewer multi-buys, driving down overall average prices. Price has dropped the most in bulk rice, thanks mostly to growth for own label.
Lucy Simpson, Kantar Worldpanel
Brands have delivered just under a third, or £3m, of the growth in pouched rice [Kantar]. "Consumers continue to see rice as an essential product in their weekly shop, a family staple that is extremely versatile and can accompany a range of dishes. The rice category has delivered strong growth over the last year, primarily driven by ready-to-heat pouches," says Nadia Follon, brand manager for Uncle Ben's, which has delivered 1.3% growth on volumes up 0.3% primarily through the extension of its pouched range.

"Ready-to-heat rice delivers on the need for healthy, tasty and convenient products that fit consumers' busy lives, and there are still opportunities to reach new consumers by showcasing ready-to-heat as a quick, healthy and convenient meal solution."

Growing demand for convenience without sacrificing flavour and nutrition is echoed by pouch rivals Tilda. "With such busy lifestyles, many consumers are looking for quick, versatile meal solutions, which are healthy and nutritious at the same time," says Anna Beheshti, head of mainstream marketing at Tilda. "Consumers are seeking a choice of gluten free, simple, delicious and filling in a variety of formats, and UK penetration of ready-to-heat has already reached 48.3%."

Consumers' increasing obsession with convenience and nutrition also ticks the boxes for shoppers looking for children's food, an area that is notoriously brand-loyal and one that Tilda already has a head start on. "The Tilda Kids range is worth £685k, growing at 20% year on year. With an average of 31% added vegetable content, Tilda Kids is one of 5 a day and all four are gluten free and vegetarian, making nutritious and easy meals for children," says Beheshti.

Price

Nevertheless, the development of premium pouches catering for our growing appetite for healthy grains and far-flung flavours (see Uncle Ben's Wholegrain & Quinoa or Tilda's Pulses & Rice range) hasn't been enough to stop average prices in the subcategory declining by 2.6% in the past year [Kantar].

There are two key reasons for this, says Kantar Worldpanel consumer insight director Lucy Simpson: growing reliance on price cut deals as the major mults fight for share with the discounters, and the rise of own label. "In the category overall there have been more temporary price reduction promotions and fewer multibuys over the past year, helping drive down the overall average price for the category," she says, adding a strong performance for Tesco and Sainsbury's own-label pouches has had a big impact. "Own label had strong growth but still accounts for less than 20% of the overall sector value."

That's changing fast, says one supplier. "Over the past eight months the microwave rice category has experienced a change in dynamics, with own label playing a more significant role, accounting for a higher share of category volume. Sainsbury's has led the way, removing multibuys and implementing a simplified EDLP strategy. This has grown own label within Sainsbury's from 25.1% market share last year to 34.6% share this year. With own label currently retailing at £0.50, shoppers are switching from big brands such as Uncle Ben's and Tilda."

Own-label ambient rice pouches are up 25.9% in value and 27.8% in volume year on year, driven by vastly lower average selling prices than their branded rivals. The growth has also been delivered by retailer exclusive brands such as Tiori, which has grown in triple digits to £3.5m in the past year [IRI] thanks partly to its average price being less than half that of market leader Uncle Ben's.

However, Tiori's days appear to have come to an end. "Last year Asda delisted its own-label offering and replaced it with tertiary brand Tiori, a move that was probably hoping to add value into the category," says one Asda supplier. "However, its recent range review in July has seen Asda delist its tertiary brand and reintroduce its own-label range, further expanding the offer to tap the increasing consumer demand for healthy foods. The lower retail pricing of own label has created an even greater price differential between own label and brands, making own-label options more attractive for shoppers."
Wholegrain boom pushes up rice prices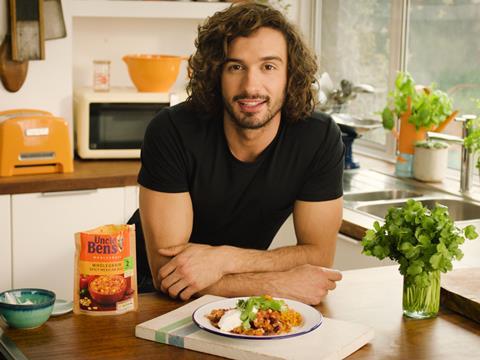 Overall rice prices are on the up, thanks to two hot spots, says IRI analyst Neya Juniper. "Wholegrain is driving overall category growth," she says. "It commands a price premium and prices are increasing year on year. Microwaveable is also seeing growth, particularly from Uncle Ben's, own label, Tilda and Tiori."
The latter brand, an Asda exclusive, isn't likely to remain in the top 10 following the retailer's decision to pull it in favour of own-label lines. More generally, own label has turned in slight value growth on a 4.1% fall in volumes thanks to a shift to smaller packs and pouches.
The rise of ambient rice pouches has continued to impact the plain rice subcategory, which has declined £1.3m (0.8%), with volume up 1.4%. Despite lower average selling prices, brands have been the overwhelming winner of the plain rice subcategory having grown £0.9m versus own label's value and volume decline [Kantar].

A key driver of that growth is the trend towards healthier options such as wholegrain, gluten-free and exotic grain rice. "Tilda brown wholegrain basmati blocks are now worth £3.6m having grown 23% in value and volume. This growth can be explained by a long-term trend towards growth in the healthier brown and wholegrain area," says Beheshti at Tilda, which has grown its overall rice sales 4.9% on volumes up 4.5% [IRI].

Provenance is another card worth playing. See the 11.2% growth of Italy's Riso Gallo to £3.1m for proof: volumes are up 16.9%. "Riso Gallo in the UK has increased the average price in the Italian ambient rice category by 3%, thus driving extra sales for retailers in a total ambient rice market that's seen average price decline driven by promotional activity," says MD Jason Morrison.

In March, the brand announced the launch of a range of new products to mark Gallo's 160th anniversary. That month, Gran Gusto - described as a versatile rice with an authentic taste - rolled into Ocado before two new products were added to the brand's Arborio risotto rice range.

Bulk rice

Meanwhile, Veetee, a major supplier of own label rice to the major multiple retailers, has seen heavy declines for its branded long grain and basmati rice. "The main dry rice fixture has experienced value losses to ethnic world foods, as shoppers seek to take advantage of cheaper price per kilo and strong world foods promotions in store. Deep-cut promotions have driven value out of the category and switched to the world foods aisle," says Raina Jhugroo, brand activation manager for Veetee.

Jhugroo's comments highlight an important point: it's not just smaller, convenient pouched rice formats enjoying growth; the supermarkets are also selling more bulk rice. Value sales are down 2.1% but volumes are up 5.1%, the equivalent of 800,000 kilos. "Price has dropped the most for the bulk rice sector, driven mostly by own-label products," explains Kantar's Simpson.

The overall decline in average selling price of plain rice has certainly been challenging for the sector, but some manufacturers predict retailers will find it increasingly difficult to maintain such low prices. "In recent times the price per kilo of rice has declined due to aggressive promotional strategies and fast-growing own-label brands as retailers continue their battle with discounters," says Vijay Vaidyanathan, sales & marketing director at Indo European Foods. "Despite all of this, we don't expect this trend to continue for long due to increasing basmati prices and weakening currency in light of Brexit. With prices expected to go up, brands will have to invest in marketing campaigns to highlight the additional value they bring to the category as opposed to cheaper deals."
Uncle Ben's Rice & Grains pouches

Launched: August 2016 
Manufacturer: Mars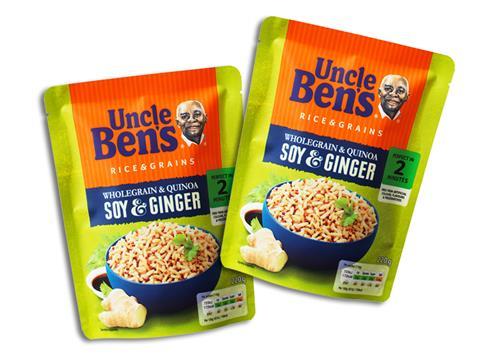 Uncle Ben's has been behind the wheel of the multigrain bandwagon in recent years with its Rice & Grains microwaveable pouch range. Now it's adding three tantalising new flavours inspired by world cuisines to the line-up: 3 Wholegrain Bean & Chilli, Wholegrain & Quinoa Soy & Ginger, and Wholegrain & Quinoa Savoury Chicken. The brand claims the range (rsp: £1.99) contains no artificial flavours, preservatives or colours.

NutriPot instant snack pots

Launched: August 2016

Manufacturer: NutriPot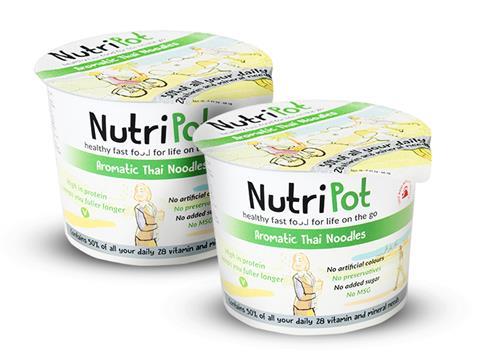 NutriPot says this is the first instant pot to provide a complete meal with added vitamins and minerals. The range (rsp: £2.49), aimed at the 74% of Brits who want greater variety in healthy snacks, consists of five variants: Aromatic Thai and Chicken & Mushroom Noodles, Quattro Formaggi and Bolognese Pasta, and Moroccan Couscous.

Tilda Pulses & Rice pouches

Launched: June 2016

Manufacturer: Tilda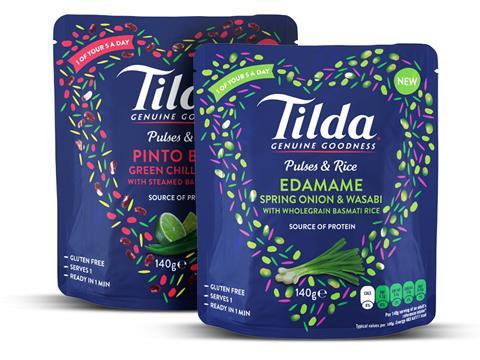 Combining plant-based protein, slow-release carbs and vegetables, Tilda's new Pulses & Rice pouches are a source of protein and fibre, count as one of your 5 a day and can be eaten hot or cold as a complete meal. The range (rsp: £1.39) includes Chickpea, Harissa & Lemon and Edamame Spring Onion & Chive, as well as other exotic dishes.

Pot Noodle Mac & Cheese

Launched: January 2016

Manufacturer: Unilever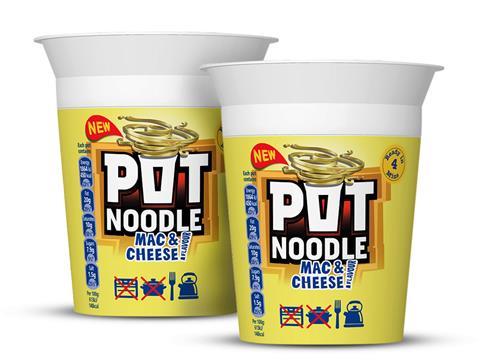 Launched to tap the growing popularity of cheese flavours in savoury snacking, Pot Noodle Mac & Cheese (rsp: £1.29) followed the launch of the You Can Make It brand campaign in 2015, which has helped drive impressive growth for the brand in the past year. Unilever says it will fork out £5m on marketing the brand in 2016.
Ramadan

There's another factor driving growth in bulk rice: the attention retailers are paying to Ramadan. "Ramadan seems to get bigger every year, and within rice it is simply the biggest event of the year," says Tony O'Connor, general manager at Bestway. "If brands do not get the offering right for Ramadan it can destroy the plan for the year. Ramadan in 2016 was the longest fasting period in over 30 years and consumers were looking to use products they could prepare relatively quickly. Therefore, I'd suggest volumes may have been slightly less, but sales were extremely buoyant for Eid."

Some brands managed to deliver exceptional sales figures on the back of promotions supported by robust marketing plans. "Ramadan is a key event in our business's calendar when we experience a major surge in sales," says Vaidyanathan. "Brands such as Kohinoor share the excitement over Ramadan and we witness an increased demand for rice. As consumption increases substantially during this period, we focus on promoting bigger bag sizes. For example, Kohinoor extra long basmati rice 10kg was on promotion in Tesco throughout Ramadan and sales increased by 74.9% in the last 12 weeks."

Indeed, Tesco said in June it expected to sell 4,000 10kg bags of rice a day during this year's Ramadan, driving a sales uplift of £30m. More than 300 branches featured offers on core Ramadan products, including 3-for-£12 on mix-and-match lines such as 5-litre sunflower oil, 4kg Laila rice and 1kg East End ghee.

"Ramadan is an important time in the calendar for many of our customers and colleagues," said Matt Clarke, Tesco world foods manager, at the time. "As food plays a hugely significant role, we're proud to offer a wide range of products and meals at great prices in over 300 of our stores."

Building on the momentum of Ramadan, the Rice Association is launching National Rice Week from 19-26 September to help educate consumers on the versatility of rice and increase confidence in cooking rice from scratch. The event is supported by major players in the rice industry including Tilda, Veetee, Indo European Foods, East End Foods and Gallo UK, and will include a nationwide PR and marketing campaign.

"We want to dispel the myth that cooking rice is tricky and its many varieties can be easily combined into any home cook's repertoire. This is an opportunity for all of us involved in the UK rice industry to showcase our best products, recipes and information," says Waugh at the Rice Association.
Brands use their noodles to rise to low carb trend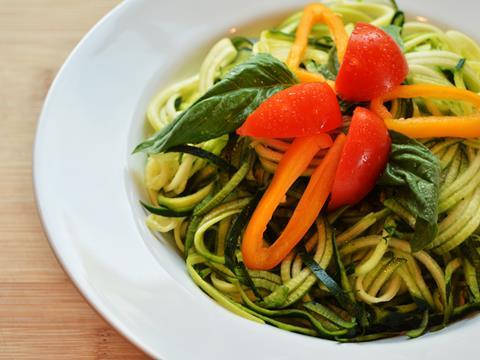 There's no way around it: carbs just aren't cool right now. Protein, and even fat, are increasingly seen as crucial components to a healthy diet. Low-carb products are making the mainstream. So how is this impacting the carb-laden rice & noodles market?
One of the most obvious consequences of the low-carb trend is the rise of products such as 'courgetti' (spiralised courgette), cauliflower rice and butternut squash noodles or 'boodles' in the chilled aisles, although rice & noodle players claim to have remained relatively unscathed by this.
"We haven't been impacted by the recent surge of low-carb, chilled options as these products are forging their own distinct category and are targeting different consumer occasions to ambient ranges," says Yilmaz Erceyes, brand director for savoury meals at Premier Foods. "However, their popularity demonstrates the consumer appetite for new, modern products that are becoming increasingly relevant for growing numbers of health-conscious shoppers."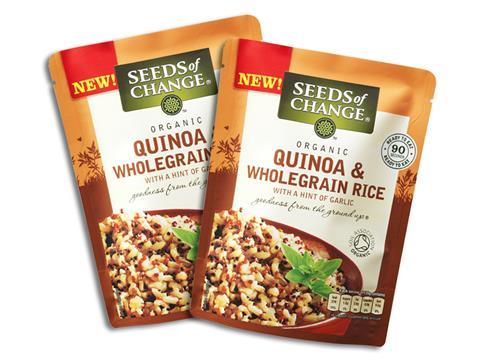 And the sector's biggest brands have been busy developing products to lure such people. Tilda, for example, is spearheading a movement towards additional grains and pulses inspired by flavours from around the world. "Consumer trends suggest that meat consumption is in significant decline, giving rise to alternative proteins," says Tilda marketing head Anna Beheshti. "We're seeing rising interest in plant-based protein, health, the environment and animal welfare."
Uncle Ben's Rice & Grain pouch range is another example, as is its organic Mars stablemate Seeds of Change. "Seeds of Change gives consumers an organic option in ready to heat with great tasting products like Quinoa and Wholegrain with a hint of garlic," says brand manager Harriet Greenwood.
The addition of grains such as quinoa has another benefit: significantly fewer carbs than rice.
The real deal with noodles

In noodles, as in rice, there is a clear trend of premium brands rooted in authentic Asian cuisine that are delivering strong year-on- year growth, no doubt driven by the continued normalisation of Asian-influenced cuisine via mainstream restaurant chains such as Wagamama and Itsu.

Kabuto Noodles in particular has seen phenomenal growth over the past couple of years, driven in part by the brand's premium cues and a proposition focused on the ubiquitous desire for convenience. "The category continues to benefit from wider consumer trends; the rise in convenience and on-the-go eating, the fall of set meal times, and the emphasis on health are now mainstream trends. The rise in the number of products available and the quality on offer have been brilliant, and Kabuto will continue to invest in order to bring new customers into the category and act as a gateway brand for teens and young adults," says Crispin Busk, founder of Kabuto Noodles.

Likewise, Itsu has been delivering incredible double-digit growth on the back of its Crystal Noodle Cups inspired by authentic Japanese and Asian flavours and marketed both in major multiples and also throughout its extensive restaurant footprint.

"The success of Itsu relies on the quality of the product. They are a radical approach to instant noodles: unique, restaurant-inspired recipes, delicious Asian-flavoured broths made with paste not powder and authentic crystal noodles, which are 100% natural and gluten free. Itsu Crystal Noodle Cups are less than 190 calories, low in saturated fat, gluten free and ready in three minutes by simply adding hot water," says Julian Metcalfe, founder and creative director of Itsu.

It's not just posh pots that are cashing in however. While big names such as Batchelors Super Noodles and Uncle Ben's are struggling (despite the former's launch of the pricier Deli Box range in 2014), the biggest of them all is in strong growth. Pot Noodle has seen sales surge 6.7% on volumes up 11.7%. "We've seen substantial growth in the convenience channel, with a 12.7% increase compared with 3.8% growth in the total market," says marketing manager Monique Rossi.

"To target shoppers in the convenience channel and tap this growth, we launched price-marked packs in July for our three most popular flavours in the King Pot range - chicken & mushroom, beef & tomato and original curry. We also launched our You Can Make It campaign, which shows how Pot Noodle is the perfect hot snack to fit the lifestyles of a young and go-getting audience, which can help them save time that they can spend pursuing their dreams. The £4.5m campaign was supported by digital, TV, VOD and social media posts, and has continued into this year with our King Pot on-pack promotion."
Pot Noodle adds £7m in a flat market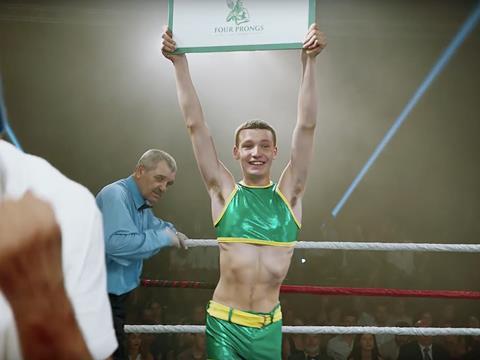 Pot Noodle has pulled it out of the bag, adding £7m through a mix of big advertising investment (see right), distribution gains in convenience, and deals that have helped drive a 4.5% fall in average price.
But price isn't the only driver of success in instant noodles. Cheaper brands such Batchelors and own label are in decline while the growth of Kabuto, with an average price more than twice that of Pot Noodle, points to a growing appetite for premium products.
In Chinese noodles, Sharwood's and Amoy are losing share as the price gap between them and own label - a growing focus for retailers - widens.
Noodles bestsellers
52w/e 21 May 2016
Pot Noodle
112.1
6.7
13.40
11.7
8.37
-4.5
Batchelors
38.7
-11.8
6.16
-14.2
6.28
2.8
Own Label
12.7
-16.4
3.07
-20.7
4.13
5.5
Uncle Bens
12.5
-23.3
3.15
-21.0
3.96
-2.9
Sharwoods
8.6
-5.0
2.45
-6.9
3.52
2.0
Amoy
8.1
-8.2
1.76
-11.8
4.59
4.2
Dolmio
7.4
-12.2
1.76
-12.7
4.18
0.6
Mug Shot
4.7
3.3
0.53
2.9
8.80
0.4
Maggi
4.6
158.2
1.23
-4.8
3.72
171.2
Kabuto
3.4
32.1
0.17
35.0
20.16
-2.1
As Pot Noodle has targeted the convenience channel for growth, others have turned to the discounters. "Discounters have become an integral part of our strategy," says Jessica Roper, Crown Foods' brand manager for Wat Kitchen, which is enjoying growing sales through retailers including Iceland, B&M and Poundworld following its launch in August 2014. "Over half of shoppers have used a food discounter in the last month against 37% in 2010 and predicted growth is that by 2021, discounters will be worth £24.9bn."

Elsewhere in noodles, plain is faring better than flavoured, growing 2.6% in volume. There is a clear divide between brands and own label, with brands losing £2.2m and own label growing £1.6m in the past 12 months. This has been driven by a 21p reduction in own-label average selling price per kg, compared with a measly 2p reduction in branded average selling price, tempting customers away from the brands.

"Own label is doing better than brands. It offers value for money and also there is more and more trust in the own-label offering," says Melisa Lazali, grocery buyer at Booths. "Premium noodles and more authentic dry and wet noodles should continue to see growth. We have also developed microwavable pouches, to capitalise on the growth of convenience formats but also on the growth of grains."

All this has hit brands such as Premier Foods-owned Sharwood's, currently the biggest brand in Chinese noodles, hard. Value sales of the brand's noodles have fallen 5% to £8.6m on volumes down 6.9% [IRI]. The development of new flavours is seen as one way of returning the brand to growth, says Premier Foods marketing director for savoury meals Yilmaz Erceyes.

"Consumer tastes are continually evolving and we know that as the out-of-home market continues to grow, people are being exposed to new dishes and flavours that they are then keen to try and recreate at home using trusted brands such as Sharwood's," he says, pointing to the 2015 extension of the brand's sauce range (not covered in the above numbers) backed by a £1.4m TV campaign. "Research shows that 83% of consumers would try a new flavour if it was from a well-known brand and to meet this demand we have recently launched a new range of World Inspired sauces from Sharwood's."
Tasty Bite noodle pouches

Launched: October 2016 
Manufacturer: Tasty Bite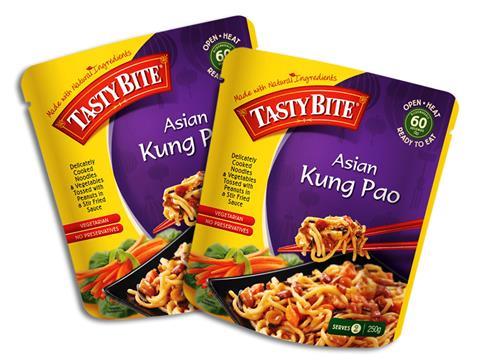 The Tasty Bite vegetarian pouch range makes much of its use of high quality natural and organic ingredients and the claim that 80% of the energy used to manufacture the product comes from renewable sources. The range includes Pad Thai noodles topped with veg & peanuts, Kung Pao noodles and veg tossed with peanuts in a stir-fry sauce, Szechuan noodles & veg in a Szechuan style red chilli sauce, and Toasted Sesame noodles & veg sautéed with toasted sesame and soya sauce. Rsp: £1.99.

Tilda Black & Red Lucky Rice pouch

Launched: July 2016

Manufacturer: Tilda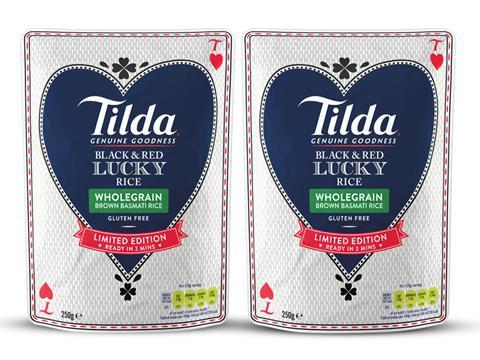 Tilda's new Limited Edition Black & Red Lucky Rice (rsp: £1.39) is a blend of Tilda's signature wholegrain basmati with black and red rice, grains renowned for their nutty flavours, low-medium GI, high fibre and vitamin content. The products is aimed at shoppers with a penchant for exploring new foods with authentic origins and stories.

Trophy Rice

Launched: June 2016

Manufacturer: Indo European Foods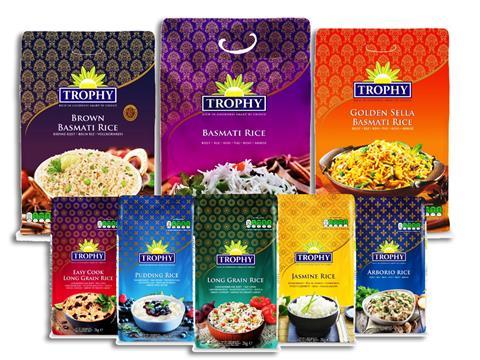 Trophy brand owner Indo European Foods has noticed growing demand for different kinds of rice for dishes from around the world so has extended the Trophy rice range beyond just Indian basmati rice into Long Grain, Easy Cook Long Grain, Easy Cook Basmati, Pudding, Jasmine and Arborio Rice, all available in 2kg bags (rsp: £3.20).

Itsu Udon Noodle Pots

Launched: April 2016

Manufacturer: Itsu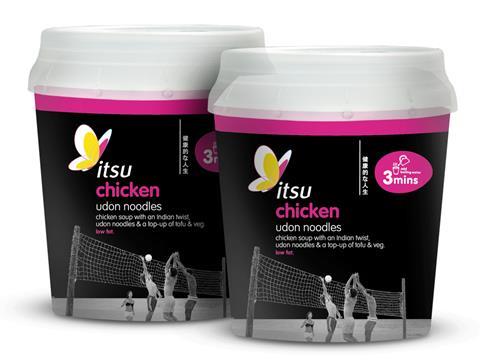 Itsu's udon noodles (rsp: £2.50) in a restaurant-inspired broth consist of 100% natural, authentic udon noodles, quality broths made with paste not powder, and come in two flavours: chicken and vegetable. "Udon noodles are celebrated in Asia for absorbing flavours beautifully," says creative director Julian Metcalfe.
Midweek cheats

Kraft Heinz-owned Amoy is the second-biggest brand in Chinese noodles, and it is suffering similar woes, having lost 8.2% in value over the past year, according to IRI. However, there are green shoots appearing in the form of some awardwinning NPD catering to shoppers looking for both authenticity and a healthy option, as well as ticking the convenience box.

"Amoy, the number one brand in wet noodles, sources its essential ingredients in Asia to create its core range and offers consumers authentic, flavourful tastes," says Martina Davis, brand manager for Amoy. "Established in China over 100 years ago, Amoy has a long heritage and is an established brand that brings authenticity to the category. Amoy Straight to Wok Noodles has just won the Good Housekeeping Award for Ultimate Midweek Cheat, and our Rice Noodles are also proving extremely popular as they cater to the increasing need for gluten-free meal options."

Promotions

This shift towards offering shoppers more authenticity, combined with convenience and value for money, has served the emerging Thai Taste brand well, says sales & marketing director Nick Thomas. "World foods are booming within retail. As long-distance travel becomes more common, global street food is increasingly appearing in food markets, and celebrity chefs help to expand the multicultural tastes in the UK," he says. "All Thai Taste products are made in Thailand, using premium, fresh ingredients, so there is no room for culinary fails."

The brand is also benefiting from greater use of link deals, says Thomas. "On Ocado, Thai Taste offers a 'chicken bundle', combining the bestselling curry pastes with a packet of noodles, or pouch of sticky rice, for a very easy meal solution. In Tesco and Waitrose we have held multibuy promotions as well as single price point deals on selected products in the range, which has served well to introduce the range to consumers and demonstrate the convenience, simplicity and accessibility of Thai cuisine."
Challenger brands cash in on world food trend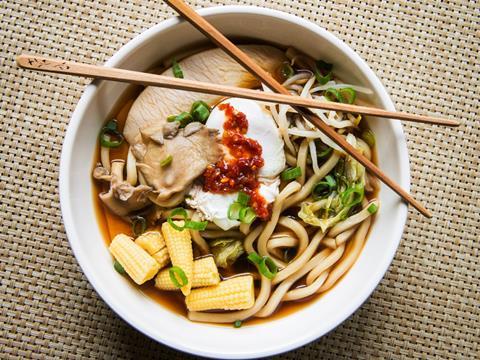 Know your ramen from your udon? Your dandan from your japchae? Your pho from your laksa?
If not, it's time for some brushing up, for a new generation of globetrotting foodies is looking to replicate the authentic rice & noodle dishes they tried on their hols at home.
Particularly noodles, says IRI analyst Neya Juniper. "A proliferation of Asian and spicy flavours have seen growth in recent years," she says, pointing to the space gains of Nissin, Itsu and Kabuto. "Authentic-tasting products such as Kabuto are performing well, and command a higher price through premium positioning."
So, as the bestsellers lists on pages 42 and 48 show, the market is polarising between premium products trading on authenticity and cheaper in-bulk packs. One brand that claims to be benefiting from this push to posher is Thai Taste.
"The popularity of Thai Taste's rice and noodles is in part driven by the increased interest in world foods and adventurous travellers or diners wanting to recreate the experience at home, as well as the versatility and convenience of its product range, not only for Thai home-cooking, but for all types of cuisine, both hot and cold," says Nick Thomas, sales & marketing director at Empire Bespoke Foods.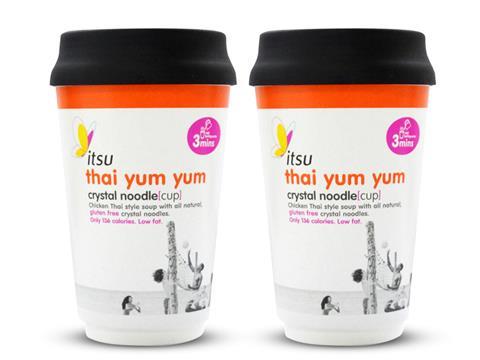 Even instant noodles are cashing in, with brands stealing growing share of the market with products that command a significant premium over their rivals.
"The success of Itsu noodles in the declining noodle market is proof that premium, healthy, Asian-inspired products are driving growth in this category," says Itsu marketing manager Alice Sandelson. "Our success shows how they are satisfying consumer desires for healthy, premium, Asian-inspired products."
The growth vindicates a recent poll in Japan showing instant noodles are the invention the Japanese are most proud of, beating the likes of rollerball pens, emojis and Pokémon.
Of course, timing can be crucial to the success of such deals, and for many rice brands the build-up to Ramadan is the point at which promotional activity starts to really hot up.

"A good example of Tilda's successful promotion strategy can be seen with our Ramadan activity," says Tilda's Beheshti. "This year we supported Ramadan with a TV and radio campaign running for six weeks to attract new shoppers during the period. The campaign was supported in-store with great promotional offers like Tilda Pure Basmati 10kg with a 10% extra free offer.

"We are also continuing to invest in marketing focused on educating consumers in the benefits of eating wholegrain, its versatility and ease of cooking through our work with nutritionist and dietitian Dr Sarah Schenker."

Fostering associations with health professionals makes sense. Health concerns and the current vogue for avoiding carbs are a challenge for this market, particularly in light of some reports that have linked consumption of white rice to higher incidences of type two diabetes among South Asians.

Another challenge is the risk of adulteration of basmati rice with cheaper long grain rice impacting consumer trust. Authentic basmati rice is traditionally grown in India and Pakistan and is limited to a handful of approved strains, including basmati 370, Taraori basmati, and ranbir basmati. But it's a challenge the industry says it has risen to.

"Incidence of non-compliance has declined sharply and it is virtually zero for products packed in the UK," says Waugh at the Rice Association.

"The rice sector takes authenticity issues very seriously. Through the Rice Association, codes of practice have been established for labelling basmati and risotto rice. The association undertakes regular surveys to check compliance with these codes and encourages companies to put things right when mistakes have been made. Where necessary, we draw problems to the attention of enforcement authorities."
Heinz Full Of Flavour instant noodles

Launched: July 2016 
Manufacturer: Heinz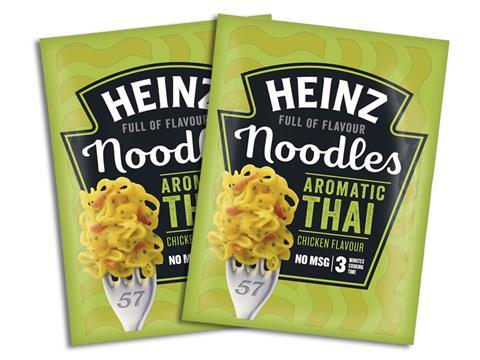 Watch out, Pot Noodle! Heinz is looking to take a big slurp out of the £269m [Nielsen] instant hot meal market with this new range of noodle, pasta, and cous cous sachets and dry and wet pots. Heinz Full of Flavour Noodles instant dry sachets come in Aromatic Thai and Peri Peri variants (rsp: 75p/44g). Since rolling out the range mid last month, Heinz has been backing up the launch with point of sale material and in store sampling.

Wat Kitchen Chicken Tikka with Rice

Launched: May 2016

Manufacturer: Wat Kitchen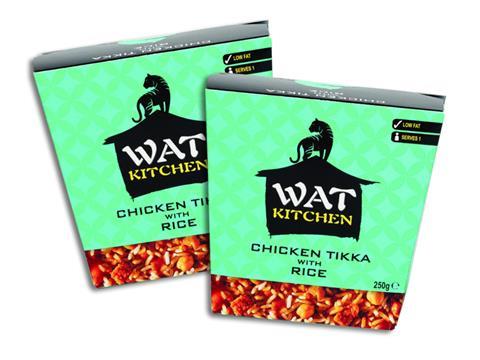 Microwaveable in two minutes, Wat Kitchen's new Chicken Tikka with Rice box (rsp: £1) is looking to appeal to shoppers who want authentic tastes, maximum flavour and on-the-go convenience. The complete low-fat range now consists of five Asian flavours, made with fresh ingredients and no preservatives.

Uncle Ben's Veg Medley Rice Pouch

Launched: July 2016

Manufacturer: Mars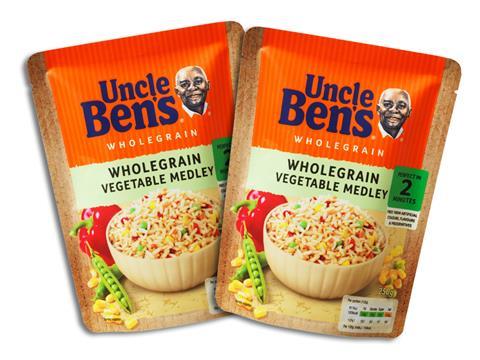 Mars is extending its Uncle Ben's Wholegrain pouch range (rsp: £1.69) with a vitamin-packed Vegetable Medley variant that includes carefully selected peppers, sweetcorn and peas. Uncle Ben's Wholegrain Vegetable Medley Rice Pouch contains no artificial flavours, preservatives or colours.

Kabuto Rice Pots

Launched: January 2016

Manufacturer: Kabuto Noodles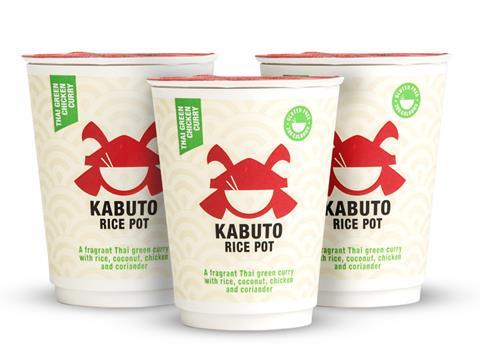 Fresh from its success with noodle pots, premium brand Kabuto has moved into the rice pot sector. Gluten-free and low-calorie, the Kabuto rice pot range (rsp: £1.99) is available in Green Thai Chicken and Red Thai Vegetable. The range offers long shelf life, ease of preparation and authentic flavours, says the brand.
Authenticity

Being a key player in own label rice manufacturing, Veetee can shed some light on exactly how this compliance is followed.

"We have seen a significant decline in mislabelling and adulteration of basmati rice since the enunciation of the Code of Practice for Basmati Rice in the UK in 2005. Veetee is a member of the UK Rice Association & Federation of European Rice Millers (FERM) and has always played a key role in fighting against mislabelling of basmati rice," says Jhugroo at Veetee.

"Through our clean supply chain we are committed to ensuring the basmati rice we supply our customers is genuine, including internal surveillance on receipt of every batch of goods, visual examination, and DNA testing of rice grains pre-shipment to our mills to provide an independent, verifiable analysis of basmati rice."

More proof, if it were needed, that the Asian kit is going legit.