The cooking sauces category is stuck in a rut. For a second successive year, sales have declined as brands struggled to add value through innovation. In fact, NPD has accounted for a paltry £139,000 over the past year, according to Nielsen, which warns that the growing trend towards cooking from scratch could restrict the ability of sauces to deliver consistent growth in the future.

"While consumers' love for Continental and Oriental food is not likely to waver, with the continuing interest in from-scratch cooking with fresh ingredients - and the influence of TV chefs and cooking programmes - consumers may well become more adventurous and confident at cooking sauces from scratch," says Nielsen senior client manager Simon Kershaw.

Brand leader Dolmio has set the tone for the subdued performance of the cooking sauces category. Although it remains the cornerstone of the market, with almost three times the sales of second-placed Loyd Grossman, rivals have been steadily chipping away at Dolmio's base. The Mars-owned brand suffered a 3.2% fall in value sales in spite of the flattering impact of commodity price inflation, and a 12% slump in volume sales as Italian sauces came under pressure from Indian and Oriental alternatives. Patak's, in particular, has upped the ante in the past year, with an intensive media campaign and strong promotional support helping it steal share from both Dolmio and Loyd Grossman.

Brands may have shied away from innovation during the past year, but they've not been afraid to support their existing ranges through advertising. Having designated Loyd Grossman one of its 'power brands', Premier Foods invested £2m in a campaign at the beginning of 2012 aimed at highlighting Grossman's passion for food. The push, however, has failed to ignite sales, which have remained flat year-on-year - as have sales of Premier's Homepride brand. And another of the company's power brands, Sharwood's, suffered a decline in sales as Blue Dragon made up ground in the Oriental sub-category.

Those brands that have managed to deliver growth have been, by and large, challenger brands such as Napolina, Seeds of Change and Nando's. Napolina, in particular, is aggressively pursuing growth through a marketing strategy aimed at positioning it as a one-stop shop for Italian food.

The commitment of brands like Napolina to marketing and promotional support means own label continues to play only a marginal role in cooking sauces. Although value sales of own-brand sauces are up 2.2%, volumes have fallen 9.1% - indicative of an environment in which, despite its cheaper price point, own label struggles to compete with branded products often sold on deal.
TOP LAUNCH 2012
Sharwood's Wrap Kits Premier Foods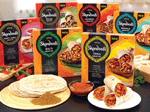 With the resurgence in scratch cooking spelling bad news for ready-made sauces, Premier Foods has tried to bridge the gap between ready-to-heat and DIY with the launch of meal kits under its Sharwood's brand. The Indian and Chinese-inspired kits contain chapattis or wraps and are available in tikka, balti, jalfrezi, masala, sweet chilli and hoi sin flavours. At the time of launch in February, Premier said it was targeting £7m in sales in the first year and a 10% share of the meal kits market.