Paddington Bear is more of a rarity than you'd probably think. Of course, he's a Peruvian spectacled bear, one of the world's rarest bear species (those of the talking, duffel coat-clad variety are rarer still), but it's something else that sets him apart: his love of marmalade.
Because Britain's love of marmalade is waning. Sales have fallen 2.4% on volumes down 4.9% [Kantar Wordpanel 52 w/e 12 October 2014]. Only jam and yeast spread, hit by Marmite's 10.3% value decline [Nielsen 52 w/e 11 October], have fared worse in a spreads category that's seen value inch up 0.9% as volumes have dipped 0.8%.
"The film has meant marmalade is being introduced to a whole new generation"
That the market is in any growth at all is surprising, considering the ongoing decline of bread sales. This is thanks to chocolate spread, up by almost a fifth in value [Kantar], and peanut butter, up 13.3% on volumes up 9%, as brands have sought to promote their products on a mixture of their versatility, convenience and health credentials.
With these the only bright spots in an otherwise gloomy category, spread brands could certainly do with a break. So has the recent big screen success of Paddington, marmalade's most famous fan, presented an opportunity? How else are the sector's movers and shakers looking to return to growth? And what can they learn from the success of chocolate spread and peanut butter?
Paddington's arrival on the big screens of Britain on 28 November helped one brand in particular. "The Golden Shred portfolio has been touched by the Paddington effect," David Atkinson, MD for grocery at Robertson's Marmalade owner Hain Daniels, told The Grocer in December, claiming the brand's Golden Shred range had surged 24% in the week following the film's launch.
Marmalade
"Since the film launched we've seen a fantastic uplift in sales," added Atkinson. "Paddington is synonymous with marmalade and the film has conjured nostalgia for those who remember the calamitous bear from their childhoods, but it has also meant marmalade is being introduced to a whole new younger generation."
Maintaining that growth will be the challenge. Indeed, analysis from IRI shows the Paddington effect wasn't enough to put overall marmalade sales back in growth in December, with the rate of decline slowing to 1.5% in the first two weeks of the month (significantly slower than in previous months) but gathering pace to 9.5% in the week ending 20 December.
Robertson's, which has long held the Paddington licence, updated its labels with images of the bear back in October to cash in on the new film, a move Atkinson says was particularly aimed at attracting younger consumers to marmalade, a spread still perceived by many as the preserve of older people.
Robertson's isn't alone in going for younger consumers. In June, Streamline Foods launched a three-strong range of Robinson's Fruit Shoot jams in squeezy packs, produced under licence from Britvic, in a bid to transfer some of the success of the brand in juice drinks to the spreads category. The jams have since gone into Tesco, Asda and Ocado.
"They're performing well, although gaining consumer awareness remains our biggest challenge," says Streamline sales director James Minnette, adding that the range's 30% lower sugar content than standard jam is a key selling point, as is a campaign of price reduction deals to encourage trial. "Within jam, reduced sugar is the only segment bucking the general trend of decline."
"Our no-sugar policy has really helped us get a point of difference from the competition"
Growing health consciousness and changing perceptions of what constitutes 'healthy' food are clearly affecting this market. For example, peanut butter and other kinds of nut butter (see left) are in strong growth at present, with many brands attributing the strong performance to the health trend. Both Meridian and Whole Earth say their natural, low-sugar credentials are striking a chord with consumers at present.
Indeed, Whole Earth is poised to overtake Sun-Pat as Britain's biggest nut butter brand if it continues its rate of growth. Both have enjoyed big gains this year, but Whole Earth has enjoyed a bigger uplift of 17.8% to £14.2m, compared with Sun-Pat's 10% value growth to £16.7m [IRI 52 w/e 8 November]. Whole Earth has also launched two 'plus seed' peanut butters - one with sunflower, pumpkin & flaxseed; another with sunflower seed (rsp: £2.99) - into Tesco in a bid to cement its health credentials.
"Our no-sugar policy has really helped us get a point of difference from the competition," says Whole Earth marketing director Gill Hesketh. "The mixed seed is doing particularly well. The product helps our credibility as a serious nutritional food."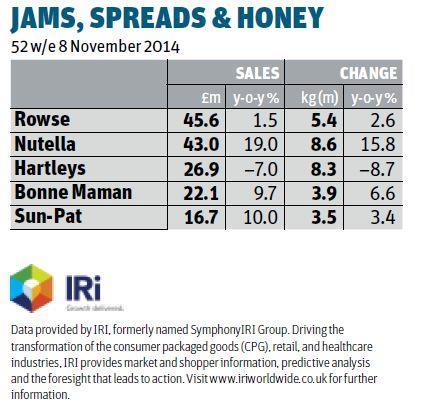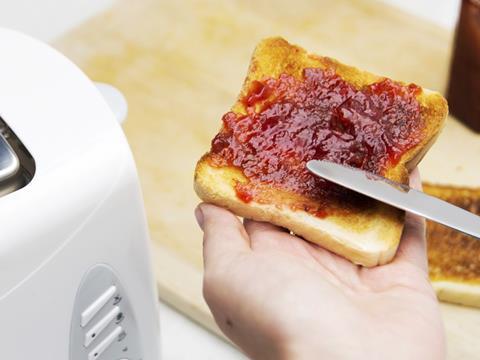 Nutella
Brits still have a sweet tooth, however. Just look at Nutella's 19% growth on volumes up 15.8% [IRI] for proof. Big marketing pushes to communicate that you can do a lot more with Nutella than spread it on toast have helped. The Wake Up To Nutella campaign and ­ongoing #betterwithnutella push have seen brand owner Ferrero spend more than £6m, says the company. "It educates consumers on the diversity of the product both as an ingredient and as a topping," says customer development director Levi Boorer.
Innovation has also helped. Boorer says Nutella & Go, a product that combines a tub of spread and breadsticks for dipping (and, launched in August, is the brand's first foray into snacking) has already racked up more than £5m. He claims the growth will be maintained in 2015 with continued investment in above-the-line marketing.
Nutella is now on TV 50 weeks of the year, says Boorer, and next month will see the launch of a new ad to encourage shoppers to spread it on their pancakes. Shrove Tuesday is a big deal for Nutella. In 2014 it saw a 73% sales uplift from pancake flippers. Its 2015 campaign will include TV, outdoor, digital, radio and in-store support.
Sampling is another tactic. Bonne Maman Preserves and Rowse Honey have signed up for a sampling campaign that kicks off next month in Tesco, Sainsbury's and London train stations to encourage shoppers to eat a better breakfast. Ali Kirk, brand manager for Rowse Honey, says the push, spearheaded by agency Brand Belief, will allow it to showcase the new flavoured honey range (see right), adding: "We're also looking forward to linking up with other breakfast brands to inspire honey usage at breakfast time."
Honey
With bread continuing to go stale - our 2014 Top Products report revealed volumes were down 6.4% [Nielsen] - cashing in on pancakes, porridge, homebaking and anything else that allows spreads to diversify clearly makes sense. It's paid off for Rowse, which has defied a fall in overall honey sales with growth of 1.5% on volumes up 2.6% [IRI].
Promotions have helped Rowse, which has used more straight money-off deals over the past year, helping to drive a 3% increase in deals on honey and a 1.1% fall in average price. Another factor has been the development of smaller, 250ml squeezy formats and honeys aimed at home cooks and cold sufferers looking for a honey to mix into a hot toddy.
"Honey has probably peaked and they may have put too much on the shelves now"
Honey's overall decline - value is down 3.7%; volume is up 0.3% [Kantar] - partly reflects that it has become more closely aligned with the cold remedy and porridge markets, both of which have suffered over the past year as a result of milder weather.
Some say the decline is to be expected, given the market's 6.2% growth on volumes up 5.2% during the previous year [Kantar]. "It's probably peaked and they may have put too much honey on the shelves now," says Russell Smart, commercial director of Meridian Foods.
Marmite is taking a leaf out of honey's book. The brand has been quiet on the ads front in 2014 and has preferred to focus on social media. Owner Unilever says to expect new ads in 2015, as well as a website with recipes aimed at drumming home the idea that Marmite is for much more than spreading on toast or putting in sandwiches.
With bread sales down, marmalade faces a similar challenge. Particularly given the bear's flirtation with Marmite in that 2007 commercial…
The market has reached its highest value in the past five years, although growth is the slowest observed in that period.

Growth continues to come from nut butters and chocolate spreads, where growth through younger consumers is key.

This is in contrast to honey, jam, marmalade and yeast spread, which all see an older profile of shopper. The future may lie in engaging with a younger shopper base.

Chocolate spread is the fastest-growing sector, reaching a category value of £57.6m in the latest year and entering its third year of accelerated growth.

Peanut butter posts a growth rate of 13.3% in the latest year, reaching a category value of £62.4m. A substantial increase in households buying into the market (+536k households) is a key driver, alongside larger volumes per trip.
Maltesers Teasers Spread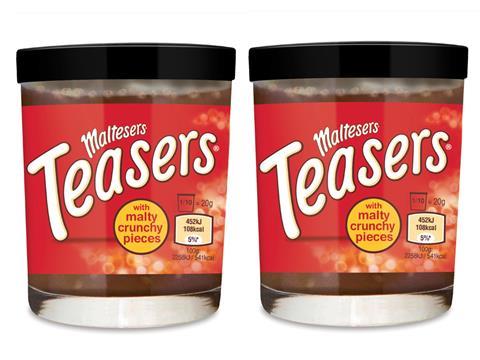 Launched: August 2014
Manufacturer: Mars
The Malteser Teaser has come a long way since it was a cult favourite found only in boxes of Celebrations. The latest Teasers brand extension is a chocolate spread, which sees it join existing Mars spreads Galaxy and Milky Way, which both launched in 2013. The new Maltesers spread (rsp: £2/200g) is currently stocked in Tesco and features a smooth chocolate spread with crunchy, malted pieces. If the barnstorming growth of Nutella is anything to go by, the omens are good for this launch.
Meridian Dry-Roasted Peanut Butter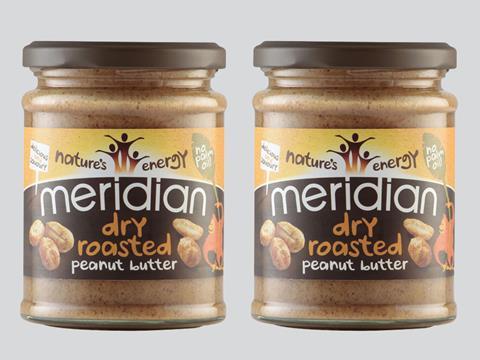 Launches: January 2015
Manufacturer: 3V Natural Foods Group
Genius: pub favourite dry roasted peanuts in a spread. Meridian claims this is a market first, and has achieved the flavour profile with a blend of roasted peanuts, yeast extract and salt. Free from palm oil and sugar, the spread comes in 280g jars (rsp: £2.29) and will initially be stocked at Holland & Barrett, as well as independent outlets.
Rowse Flavoured Honeys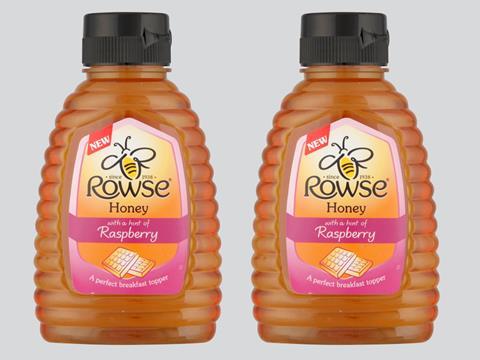 Launched: Summer 2014
Manufacturer: Rowse Honey
The UK's best-selling honey has launched a lot of NPD of late, but its range of three flavoured honeys has been most successful. The line-up comprises Apple, Cinnamon and Raspberry variants (all rsp: £1.99/250g). All three honeys feature the on-pack slogan 'a perfect breakfast topper' and will be supported with ads throughout 2015.
Whole Earth Peanut Butter with Seeds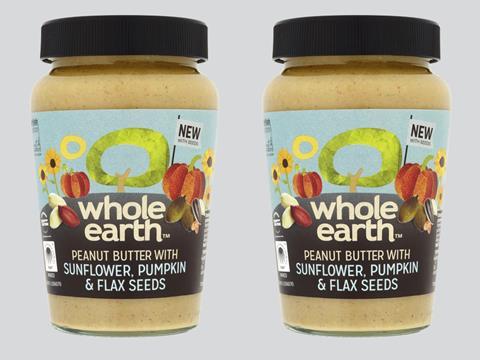 Launched: September 2014
Manufacturer: Wessanen UK
Health-conscious consumers can now get the nutritional benefit of seeds in a nut butter. Whole Earth has launched two 'plus seeds' variants - Peanut Butter with Sunflower, Pumpkin and Flaxseed, and Peanut Butter with Sunflower Seeds (both rsp: £2.99). The two lines are now stocked in Tesco.