Britain, it seems, is well and truly off the sauce. Eleven of the top 20 brands have declined in volume this year, including such favourites as Heinz salad cream and HP sauce. Even some that look, based on value sales, to be storming ahead, are doing so at the expense of volume. Lea & Perrins, for instance, has dipped 7.5% in volume year-on-year and stablemate Amoy has fallen 9.6% in volume. Industry experts blame a number of factors, including poor weather putting a dampener on summer barbecues and shoppers shifting away from the kinds of food often accompanied by sauce, such as fry-ups and roasts.

Heinz tomato ketchup remains comfortably in top spot despite a slight decline in value sales. The brand has been busy innovating in the past year, with a limited-edition Indian spices variant released in February and the introduction of jarred ketchup in Balsamic Vinegar, Basil & Oregano and Roasted Garlic, Thyme & Honey variants in October.

Although some Heinz products, including Daddies and HP BBQ sauce, have been a little squeezed, the wider Heinz family can claim some of the biggest success stories in the top 20. Its BBQ sauce has entered the rankings in style and Heinz's mayonnaise has inched up the table on the back of strong growth.

The biggest success story in the category, however, has been hot sauce, with Nando's, Blue Dragon and Tabasco all performing exceptionally well. "Consumers are becoming more adventurous, willing to try a greater amount of spicier food," explains Nielsen client manager Tom Platford.

Condiments, included in the Top Products Survey for the first time this year, have had a tough year. Although values are up, volume sales have dipped for four of the top five brands, with only Colman's mint sauce managing to stave off sales decline.
TOP LAUNCH 2012
Heinz Hot Sauce HJ HeinzBRANSTON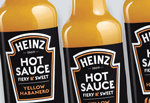 Mexican food could hardly be hotter right now, so it's little wonder Heinz is looking to ride the heat wave with this Mexican-inspired condiments range. Launched in October, Heinz Hot Sauces come in chipotle & garlic, green jalapeño and yellow habanero variants and are designed to spice up pizza, pasta, stir fries and other meals. The sauces, for which the chillies are sourced directly from Mexico, will look to steal share from established products from the likes of Frank's, Nando's and Lingham's.