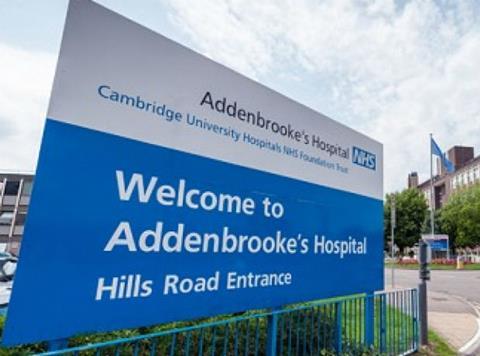 Cambridge University Hospitals' NHS Foundation is launching a café serving healthy and nutritious food in one of its teaching hospitals.

The Royal Voluntary Service Tea & Co café is run by the eponymous volunteering organisation, and is located in Addenbrooke's outpatient area. The café offers NHS staff, patients and visitors healthy snacks and lunches as well as fresh fruit, with profits going to support the charity's work with older people.

"I was honoured to be asked to open the new café and know it will provide a much valued service to our staff and patients," said board chair of Cambridge University Hospitals Dr Mike More. "I would like to thank the charity and its volunteers for the enormous contribution they make here at the Trust.

"We believe that the best way to support NHS workforce health reform is to help hospitals become hubs for healthy eating and drinking. As well as rolling out the Healthier Choices programme, we are ploughing funds back into improving support services for older people," added RVS executive director of retail Kate Bull.

"We hope many more commissioners and hospital partners will follow Addenbrooke's example by partnering with us to transform their own retail operations."

RVS' Healthier Choices programme was introduced to hospitals last year, and increased year-on-year sales of fruit by 25% in the first quarter of 2017. Sales of healthy snacks such as salad and sushi grew by 55% and sweet and savoury snacks such as dried fruit also increased by 109%. The charity attributed this to product reformulation, range updates and healthy food promotion.

Tea & Co is the latest step in Healthier Choices retailer transformation programme, which saw the volunteering organisation introduce its first dietary-specific hospital shop Revitalise last October and convenient healthy food and drink grocery store Shop & Co earlier this year.

RVS supports more than 100,000 older people every year in hospitals and within the community, providing Meals on Wheels, lunch clubs and transport services.