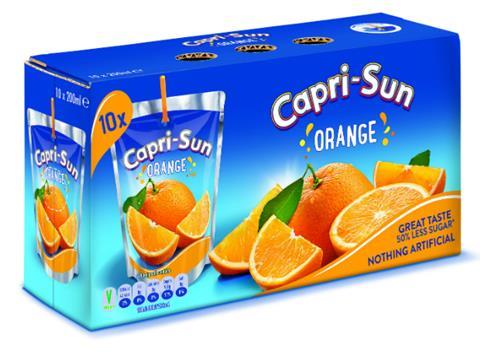 Capri-Sun has reduced the sugar content of its five-strong core range by 50%, the brand announced this week.
Arriving shortly before the government's soft drinks levy comes into effect on 6 April, Capri-Sun's reformulated drinks contain stevia to help cut sugar to 4.9g per 100ml. They are further sweetened by sugar and fruit juices from concentrate.
The new recipe maintained "the iconic taste of original Capri-Sun, and in testing parents and their children gave positive feedback" said maker Coca-Cola European Partners. Rolling out now in the UK and in Ireland, Belgium and the Netherlands in coming months, it is the latest stage of Capri-Sun's sugar reduction programme, which has seen the 2015 launch of No Added Sugar variants and the 2016 debut of the Fruity Water range.
"At CCEP, we have been on a sugar reduction journey for many years, listening to consumers and customers and making small decreases in the amount of sugar used across our full portfolio of brands," said the supplier's GB customer marketing director Simon Harrison.
"We have always been clear that we would never change the recipe of any one of our brands unless the taste is equalled or made better. We have done just that with Capri-Sun thanks to the inclusion of stevia, a sweetener from a natural source."
CCEP has made a raft of moves this year to expand its selection of healthier drinks. Earlier this week, it unveiled the zero-calorie Oasis Aquashock range of flavoured water, while in February the company added new Diet Coke flavours and Sprite Lemon Lime & Cucumber No Sugar. January saw the launch of Fuze low-calorie premium iced tea and dairy-free Adez smoothies.