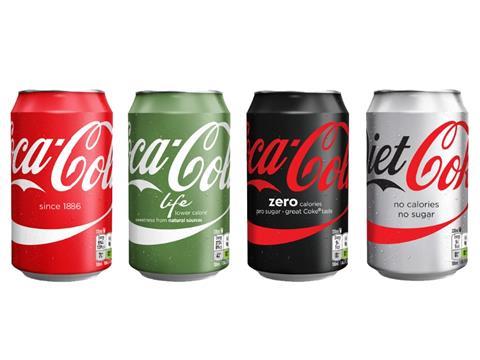 Coca Cola Enterprises has announced plans to cut calories across its entire portfolio by 10% in the next five years.
The company, which is the largest bottler of Coke in the world, said that it wanted to be "part of the solution" of solving the European obesity crisis, where 50% of people were overweight or obese.
CCE chairman and CEO John Brock said that obesity was a "big concern" to its stakeholders.
"We know that diet and calorie intake, including in our products, can make a big impact ton health and wellbeing and we want to be part of the solution," he said.
"We have worked over the past years to increase the number of no or low calories beverages in every market and increase the range of portion sizes."
The pledge follows previous moves in the UK by Coke under the Responsibility Deal including the launch of a slimline 250ml can format across the Coca-Cola, Diet Coke and Coca-Cola Zero brands, in 2013.
In the same year it launched a reduced calorie Sprite in the UK with 30% fewer calories and 30% less sugar completely and also slashed the calories in its Fanta range.
Coke has also run a series of national advertising campaigns urging consumers to consider the need for "energy balance" while plugging its low calorie and zero calorie range.
"Our portfolio has the largest percentage of no- and low-calorie beverages that it's ever had, and we've now set a target to get three million people moving by 2020, in line with the Coca-Cola system commitments," added Brock.