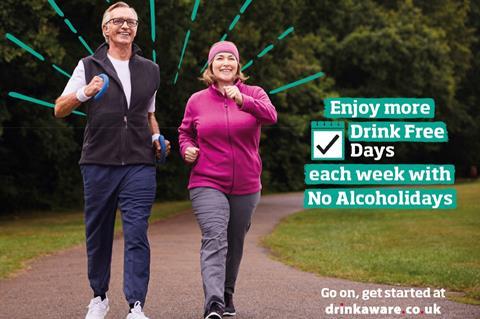 Drinkaware is mounting a fresh push urging middle-aged drinkers to reduce their alcohol content by taking regular 'drink-free days'.
The charity's push – a continuation of the campaign it launched in 2018 – will run online and on the radio throughout the autumn, targeting 40 to 64-year-olds, who Drinkaware said were "the group most at risk of alcohol-related health harms".
It will be centred on the idea of "No Alcoholidays", said Drinkaware, and would "build on the Drink Free Days message in an even more memorable and engaging tone", encouraging "alternative lifestyle behaviours to drinking" and touting "the benefits of health, fitness and wellbeing".
There was "a gap between many mid-life drinkers' association with the health benefits of cutting down on their drinking and their actions", said Drinkaware CEO Elaine Hindal. She cited YouGov research that suggested a majority of mid-life drinkers agreed that reducing drinking would improve their health, but less than half (49%) had actually tried to cut back.
"The research also points to some simple measures that retailers can take to help customers who want to cut back, such as offering a good selection of no and low-alcohol drinks, and signposting them clearly in store."